Why Is Idaho so Conservative?
I recently came across a good method for discovering which stereotypes and questions exist about a certain place: just allow Google to auto-complete the phrase, "Why is [place] so _____?" I've discovered that people tend to wonder why Ohio is so important, why South Korea is so weird, and why Georgia is so humid. And the number one question for our current home: "Why is Idaho so… conservative?"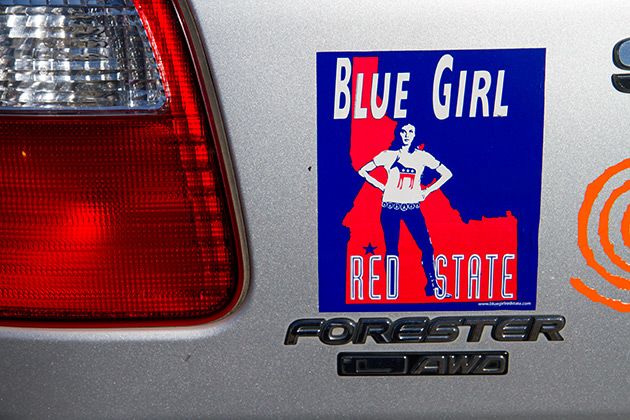 Idaho is one of the reddest states in our very divided nation. In the 2012 presidential election, Mitt Romney beat Obama by over 34 points. The last time Idaho voted for a Democrat was in 1964 when it joined the rest of the nation in thumping Barry Goldwater. Idaho is currently one of only three states with all-Republican Congressmen, Senators and a Governor (Kansas and Wyoming are the others).
I'm no political scientist, and my observations aren't in any way definitive or even very informed, but if someone were to ask me, "Hey, you spent some time there. So why is Idaho so conservative?", I'd have three big answers:
1) Idahoans are loners. This was the last American state to be explored by settlers, and has a history in individualist industries like mining and farming. It's underpopulated, vastly wild (over 60% of Idaho is public land), hard-to-reach and isolated. And Idahoans like it that way. Whether it's Fish & Game agents regulating hunting, the Feds closing brothels, or Uncle Sam taking away their hard-earned cash, Idahoans mistrust anything coming out of Washington DC. Far-away legislators don't have any idea what living here is all about, and so Idahoans want to limit federal power to the fullest extent possible… a mind-set which aligns them nicely with Republicans.
2) Idahoans are white. Overwhelmingly. In much of the state, spotting a black or Asian face on the streets is an event. Big surprise: white people vote Republican. This is the whitest place I've ever lived, and that's a list which includes Northwest Ohio, Ireland and Germany!
3) Mormons. A lot of Mormons live in Idaho, having emigrated up from Utah. Some cities in the southeastern part of the state are over 97% Mormon. And that equals to 97% guaranteed votes for Republicans.
Jürgen and I are unrepentant liberals, but I never felt concerned. Idahoans have a real live-and-let-live attitude, and we never encountered any unpleasant situations during our time there, even when gingerly mixing into political conversations. Sure, folks are loudly Republican, and Fox News is often on the TV, and you hear a lot of Obama jokes, but we've detected very little of the ignorance or intolerance which can often be found in strictly conservative communities.
Barack Obama
,
Blue Girl Red State
,
Election
,
Idaho
,
Mitt Romney
,
Voting
November 5, 2012 at 9:45 pm