For 91 Days in Idaho – The E-Book
Idaho is without a doubt one of the most under-appreciated of all America's states. For three months, we explored the state from top to bottom, east to west, and found one memorable sight after the other. Unbelievable nature, adventure, funny people, bizarre museums, a surprisingly fascinating history and culture, and unknown gems far off the beaten path. We've now collected our blog into an e-book for your Kindle, Nook or other e-reader. With all our articles and over 250 full-color photos, this portable edition is perfect for when you're on the road. And during any trip to Idaho, you'll be on the road a lot!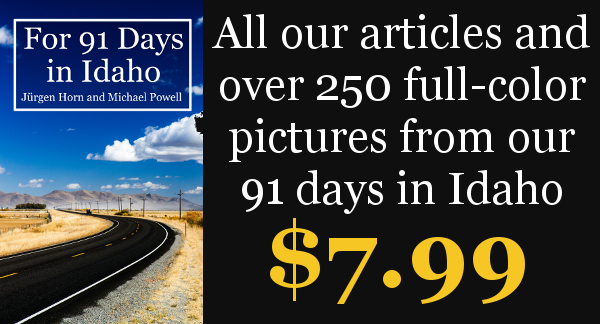 For just a few bucks, you can download your own copy of the book for use on your e-reader or computer, giving you access to our articles wherever you are, without having to connect to the internet. And, buying the e-book is a great way to support our project… take a look at some sample pages from the PDF.