In 1955, tiny Arco won fame as the world's first nuclear-powered city. Today, it mainly serves as a jumping-off point for excursions into the nearby Craters of the Moon National Monument. Arco is one of Idaho's strangest little towns, although nearby Atomic City manages to be even stranger. And littler.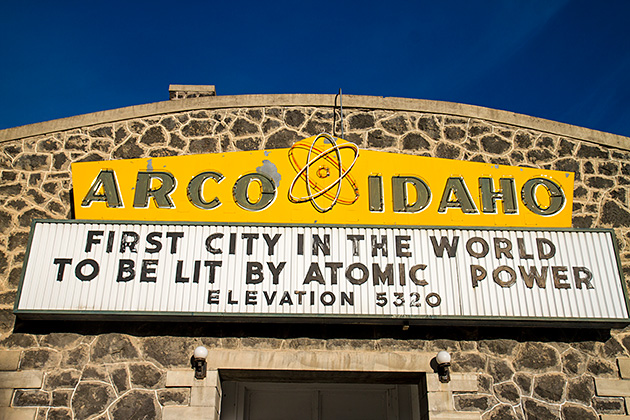 Besides the lava-scorched earth to the south and a range of mountains to the north which include both Idaho's highest peak (Mt. Borah) and its most awesomely-named (Appendicitis Hill) the most striking feature of Arco is its "Hill of Numbers". For decades, the senior classes of the local high school have been decorating the nearest mountain with the last two digits of their graduation year. Graffiti on a grand scale.
Arco's story has been tied to nuclear power ever since our country started experimenting with it. The reason that the government chose this corner of eastern Idaho as one of its nuclear sandboxes is fairly self-evident. Remote and sparsely-populated, Arco is the kind of place that a nuclear accident might go unnoticed. Or at least under-reported. Case in point: did you know that the USA's only fatal nuclear accident occurred in Arco, Idaho? In 1961, there was a core meltdown in the National Reactor Testing Station which killed three servicemen. [Uncle Sam clutches his chest in mock concern… "Oh, you didn't know about that?"]
Thirty miles to the southeast, Atomic City is even more closely associated to nuclear power than Arco. A ghost-town for all intents and purposes, Atomic City still clings to life with a bustling population of 29. We cruised slowly down the town's only street and were vaguely creeped out. Although we didn't see a soul, I was certain that radiation-scarred monsters were watching us hungrily from behind curtained windows, and refused to get out of the car. Jürgen chanced it, for a picture of a trailer that had been designed to look like a boombox.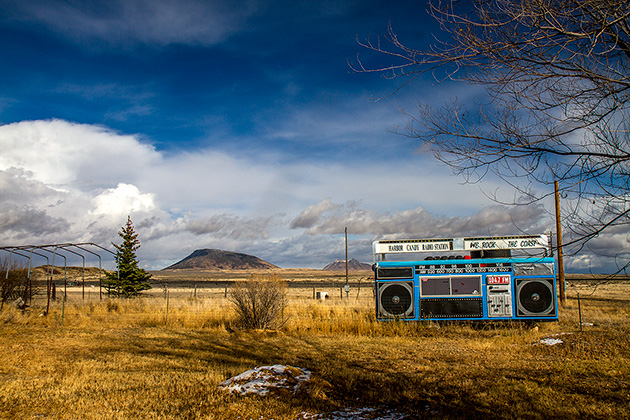 Close by Atomic City is the Experimental Breeder Reactor I (EBR-I), a nuclear plant decommissioned in 1964 and today designated as a National Historic Landmark. The world's first atomic-powered electricity was generated here and, during the summer, you can tour the interior of the plant. It's supposed to be pretty cool, but we were visiting too late in the year to get inside. Frustrating. There was no one around, and I briefly considered opening a window, but I'm pretty sure that breaking into a nuclear reactor, even a decommissioned one, is the kind of thing that lands you in Guantanamo.
We contented ourselves with examining the prototype reactors from the Aircraft Nuclear Propulsion project. This attempt to build nuclear-powered was a failure, abandoned in 1953, but it left behind some marvelous pieces of engineering to admire.
Location on our Idaho Map: Arco | Atomic City