For 91 Days
we lived in Idaho. Famous for its potatoes and little else, this state is easily one of the USA's most under-appreciated. Amazingly varied, from the fields of the south to the mountain ranges of the north, with some of the country's most bizarre and remote nature. Lava fields? The continent's largest sand dune?! If you're planning a trip there, you'll find a ton of great information and ideas in our blog. Start reading
at the beginning
of our adventures, visit our
comprehensive index
to find something specific, or read one of the articles selected at random, below: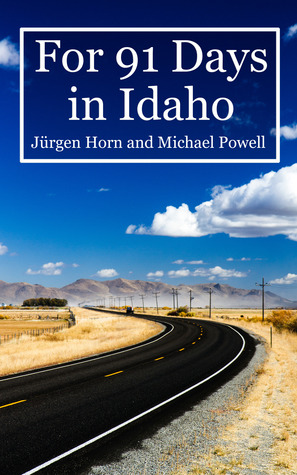 Idaho is without a doubt one of the most under-appreciated of all America's states. For three months, we explored the state from top to bottom, east to west, and found one memorable sight after the other. Unbelievable nature, adventure, funny people, bizarre museums, a surprisingly fascinating history and culture, and unknown gems far off the beaten path.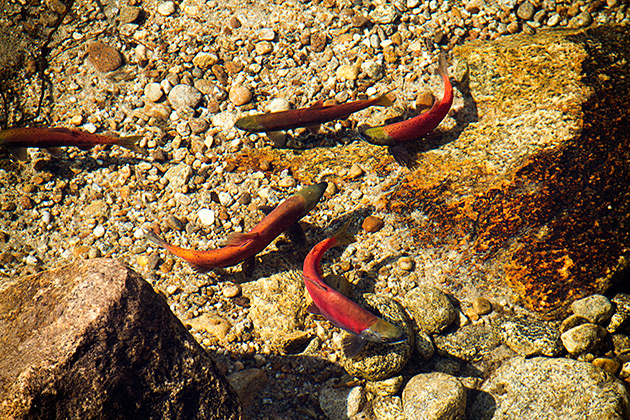 These red-bodied, green-headed Sockeye (or Kokanee) Salmon were just one of the unexpected things we saw during our first month Idaho. Every day, the state seems to be scouring its shelves, finding bizarre new curiosities for our camera. Here are some of the best pictures we've taken over the past month.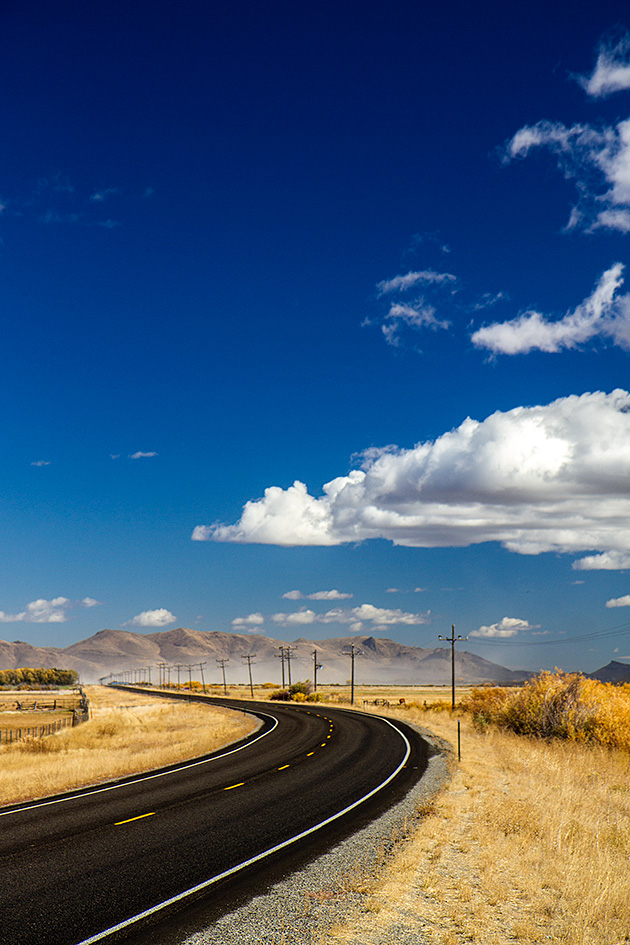 After an extended stay in Sun Valley, we got back on the road. Destination: Arco. We took Highway 26, which is also known as the Peaks to Craters Scenic Byway. It couldn't be more perfectly named. The picturesque aspen-covered mountains of Sun Valley slowly give way to the bizarre lava-formed landscape of the Craters of the Moon National Monument. We were lucky to have stunning weather during the drive: a perfect showcase for Idaho's stunning natural diversity.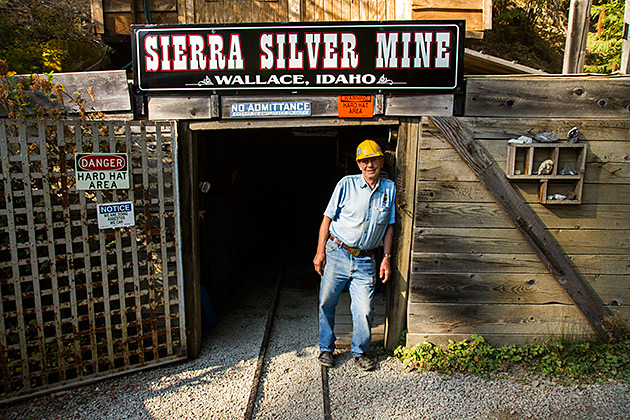 The history of Wallace is synonymous with that of silver mining in the Coeur d'Alene Mountains. The town was founded when silver was discovered, thrived as long as the mineral was abundant, and faded once the mines closed up shop. The Sierra Silver Mine Tour confidently describes itself as "the most popular, interesting, and instructive tour in the Northwest", and offers an excellent primer to both Wallace and the industry which defined it.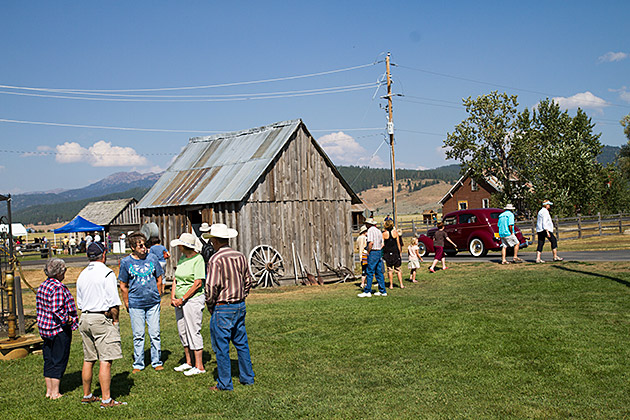 Maybe it was all the Mountain Dew we'd been drinking, but Jürgen and I woke up on Saturday morning with an unquenchable thirst for crazy action. "Dude!" I yelled at him. "Extreeeeme!" came his frenzied reply. Mouths frothing, we examined our options. Repelling in the Sawtooths? Lame. Kayaking in Hell's Canyon? Snooze-ville. But what's this? An ice cream social in historic Roseberry? Sounds like it's time to get our party shoes on!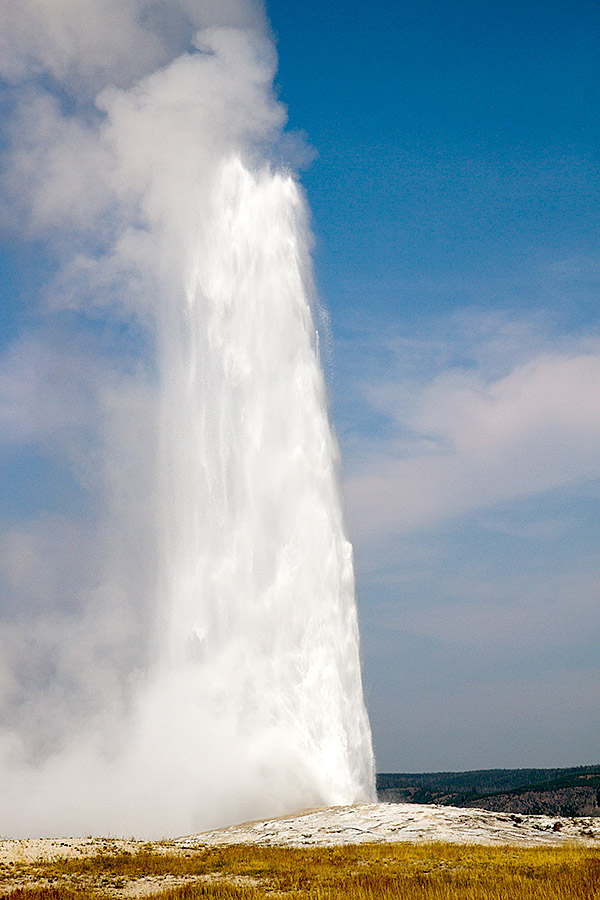 We fully subscribe to the concept of "slow traveling". After all, that's what the For 91 Days project is all about — dedicating sufficient time to each new destination for comprehensive exploration and total familiarity. So when we arrived at the entrance gate to Yellowstone National Park, it was with conflicting emotions. Excitement, surely, but also frustration. Here we were at one of the wonders of America, and we had a ridiculously tight schedule. Four hours. We had given ourselves just four hours to see one of the most amazing places in the world.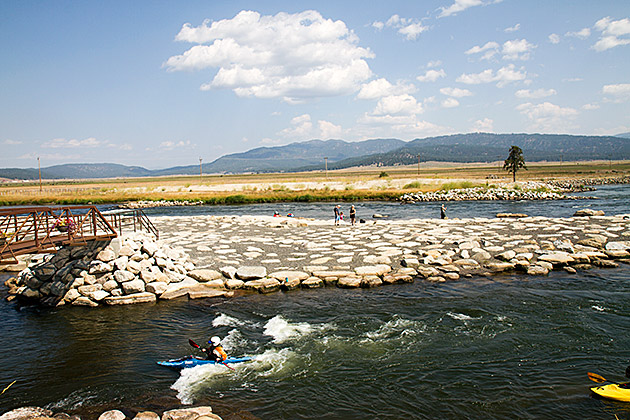 In 2001, the Boise Cascade Sawmill ceased operations. It had been the largest employer in Cascade and its closure forebode a grim future for the tiny valley town. But Cascade refused to abandon hope; instead, it took a good look at the incredible nature surrounding it, and decided to give itself a makeover. There was no reason this former lumber town couldn't become a tourist destination.