Twin Falls and the Snake River Canyon
Great Place To Stay In Twin Falls: Red Lion!
After exploring eastern Idaho, we slowly made our way back west. The eventual goal was Boise, but first we'd be spending a few nights in Twin Falls, to see the city and investigate the surrounding area, which goes by the promising name of Magic Valley.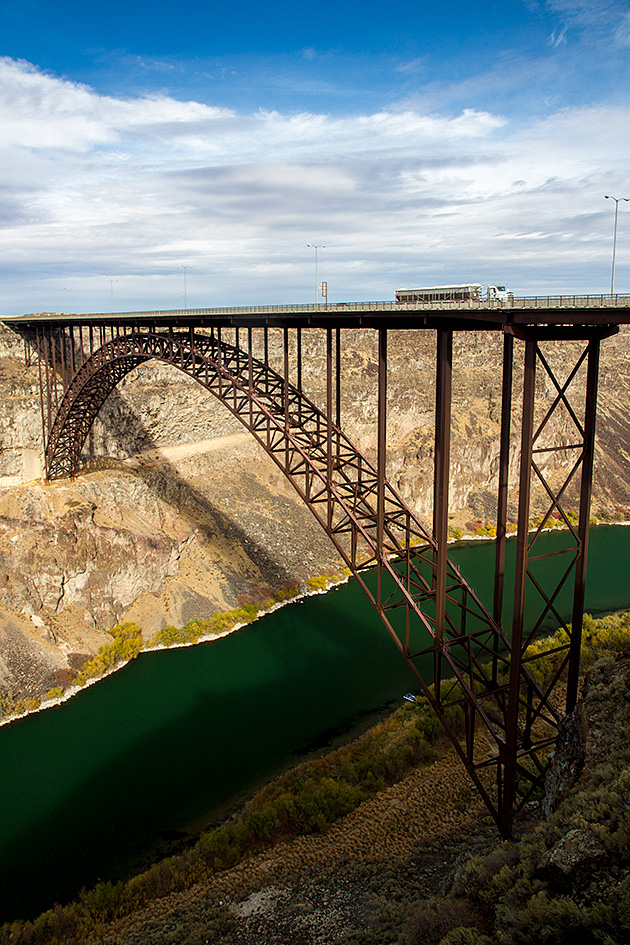 To enter Twin Falls from the north, you have to cross the Perrine Bridge across the Snake River Canyon. Dropping down 500 feet and stretching across a quarter mile, the canyon serves as a jaw-dropping front door for the city. From the bridge, the view of the valley takes in the Snake River far below, winding its way west, and a golf course on the canyon floor. You can walk across the bridge or take a pedestrian path leads most of the way along the canyon's rim.
The Snake River Canyon is well-known as the site for one of Evil Keneival's bravest, most death-defying stunts. In 1974, the daredevil attempted to jump the canyon on his Skycycle X-2. He didn't even come close, but it was a spectacular failure.
Unfortunately, apart from the amazing front door provided by the Snake River, Twin Falls itself fails to impress. For a city of over 40,000, the downtown is surprisingly small. There are a couple decent joints, such as O'Dunkens Draught House where we had a delicious lunch, but otherwise you'll not find much to do. Immediately outside of downtown, it's all strip malls.
No, the real reason for a stay in Twin Falls is the beauty of the surrounding area. The Shoshone Falls are found here, just a few miles from the city center. These massive waterfalls on the Snake River are called the "Niagara of the West", and are in fact bigger than their more famous eastern cousin. Unfortunately, during the late-autumn season in which we were visiting, the water had mostly abated, leaving it much less impressive than in the spring, during the winter run-off.
Location of Twin Falls | Shoshone Falls