The South Eastern Corner of Idaho
After driving through Soda Springs and Montpelier, we continued along Highway 30 into the southeastern extreme of Idaho, occupied by Bear Lake and a handful of small towns. It was late October, but winter had come early to the region and a fresh layer of snow was blanketing the ground.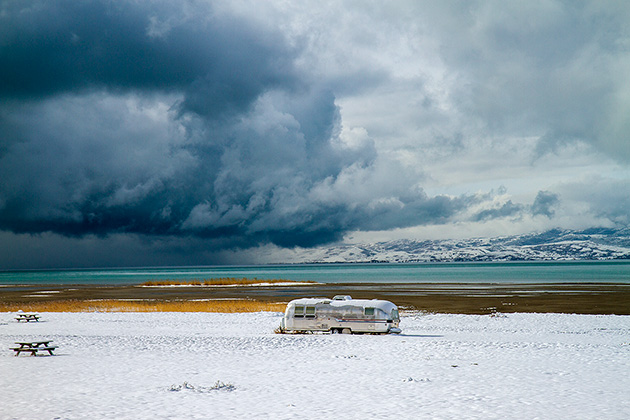 The border between Idaho and Utah cuts through the middle of oval-shaped Bear Lake. Set on top of limestone deposits, Bear Lake has a unique ecosystem which supports several endemic species, such as the Bear Lake Whitefish. And the strange, intensely turquoise color of the lake's water have led locals to call it the "Caribbean of the Pacific Northwest".
But Bear Lake is most well-known for the legendary creature which haunts it. The story of the Bear Lake Monster stretches back to the 19th century, and the arrival of the original settlers. The deadly beast hunts in the water, but can run onto land in pursuit of its prey. Like an Alligator-Shark-Bear. And it totally exists! If you don't trust me, perhaps you'll believe that shining beacon of journalistic integrity: Animal Planet.
Perhaps some skepticism is warranted. After all, the man responsible for the original reports of the Bear Lake Monster, Mormon missionary Joseph C. Rich, eventually admitted it was all a scam; a ruse to drum up curiosity about the region. Usually, a full confession would be enough to close the case, but nothing can apparently deter the charlatans at Animal Planet from peddling their sensational myths. And, apparently, being a hoaxster doesn't put off the voters of Idaho: Joseph C. Rich went on to become a state senator!
The sky was overcast when we visited, so we weren't able to appreciate the famous blue water of Bear Lake, and neither did we encounter any monsters. But it was still a gorgeous drive. We drove along the lake's northern border, on a narrow strip of land that separates it from the rather less enchanting Mud Lake, then picked up Highway 89 which brought us into Paris.
A tiny town in Bear Lake County, Paris best known for its tabernacle, built in 1889 by Mormon pioneers. A Romanesque structure of red sandstone, the tabernacle is completely out-of-place in the unassuming little village. But the impressive temple is in wonderful condition and still in use today.
We also swung by the Oregon Trail Museum in nearby Montpelier. Although it was closed for the season, we managed to charm our way inside so that we could snap a few photos. More than just a collection of information or dry exhibitions, this museum attempts to recreate the experience of being a settler on the trail; visitors first equip themselves at a general store, then walk along the trail with stops for camp songs and stories.
Location of Bear Lake | Paris, Idaho
–Feed Your Kindle With Our Travel Books