Don Aslett's Museum of Clean
Tucked away in the otherwise uninspiring town of Pocatello is one of the most bizarre museums we've ever visited. The Museum of Clean is the ambitious venture of Don Aslett: America's undisputed Cleaning King.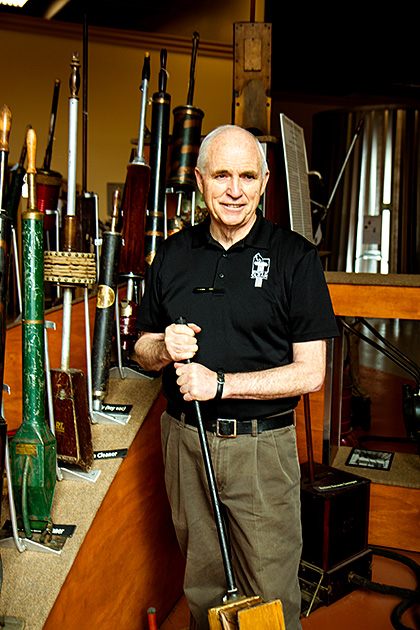 Don Aslett has been battling dirt and grime for over fifty years. In 1957, he established a janitorial service called Varsity Contractors to help finance his studies at Idaho State University. The business grew quickly and eventually became one of the country's biggest cleaning services. Today it boasts over 30 offices around the country.
That might be enough accomplishment for the normal person but, as we would soon discover first-hand, Don Aslett is anything but the normal person! Cleaning is not just his profession, but his obsession. His mission. He's written over 360 books on the subject, with titles like Clutter's Last Stand: It's Time To De-junk Your Life! and Is There Life After Housework?: A Revolutionary Approach to Cutting Your Cleaning Time 75%, and has been on TV hundreds of time, including appearances on QVC and Oprah. He wants to clean up the world. And by creating the Museum of Clean, he's put his money where his mouth is.
I had been expecting something small-scale, perhaps a collection of old vacuum cleaners. So when we pulled up in front of the massive six-story museum in Pocatello, I was floored. All this, for the history of cleaning products? Well, not quite. This isn't the Museum of Cleaning but the Museum of Clean — an important distinction. Mr. Aslett is building a shrine to the very concept of "clean". Clean floors and houses, yes, but also clean living. Clean energy, clean morals and a clean world. And why not? We've visited museums dedicated to potatoes, illusions, Evita Perón, and whores. Why not a museum of clean?
We were lucky to find Don Aslett inside, hard at work on yet another exhibition. He's in his seventies but has the energy of a teenager, and gave us an exhaustive tour of his new museum, constantly cracking jokes and detailing his life philosophy. He's got one of those larger-than-life personalities, and the time we spent with him was highly entertaining. And surreal.
The museum is truly something else. The first thing you'll notice is a gigantic playground in the foyer that brings to mind a Motorcycle Death Globe, where kids can sweep up toy coins or squeegee windows (our vacuum-obsessed nephew would love this). Scattered about the museum are old Amish bath tubs, toilets, dental equipment, a library dedicated to "Clean", artwork, video exhibitions and more. Much, much more. The scary thing is that the museum is only a third complete. Four of the six floors have yet to be filled out… I can't imagine what the place will be like once finished. You'll need three days to fully explore it!
The keyword for our time in Idaho has been "unexpected", and Don Aslett's Museum of Clean provided yet another absolutely unpredictable surprise. It's strange, amazing and inspiring all at once … just like Don Aslett himself. Do yourself a favor and check it out. And if Don's around, as he probably is, make sure and say "hi" from us!
Link: Museum Of Clean