The Oasis Bordello Museum in Wallace
Word had spread around Wallace that the Feds were on their way in, and the town's bordellos had to close up fast. Under the vigilant eyes of Madame Ginger, the working girls of The Oasis grabbed what they could carry and left everything else behind. Their departure marked a sudden and unexpected end to prostitution in Wallace. The year was 1988.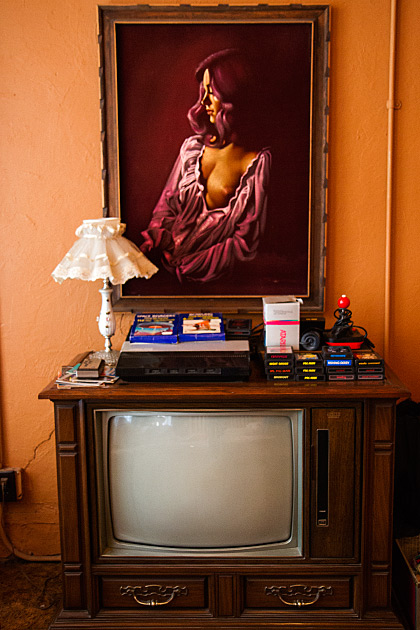 For the next five years, until being sold in 1993, The Oasis was locked up and undisturbed. The building's new owner found everything inside the former bordello just as Madame Ginger and her girls had left it — clothes, toiletries, personal items, drawings, Atari systems, price lists, liquor, even the now-rancid food in the refrigerator. He realized almost immediately that he had a ready-made museum on his hands. And the Oasis Bordello Museum was born.
It goes without saying that, in 1988, prostitution in America was completely illegal, even in out-of-the-way Wallace, Idaho. But Madame Ginger had been careful to make generous "donations" to the police department, and was one of the town's prime philanthropists. As such, she was popular with locals and could even call upon the law for assistance, when needed. For all intents and purposes, The Oasis was a legitimate business… and what a business it was! With five girls working sixteen-hour shifts, profits were estimated to clear a million a year.
And that's despite the competitive prices. Even those of us who've never, ahem, procured a Lady of the Night understand that $15 for an eight-minute session isn't bad. During our fascinating tour of the Bordello, we found the price list posted up in Madame Ginger's bedroom. Eight minutes was "the basic" session (let's not kid ourselves, guys, that's plenty of time). But there were other variations; you could go up to an hour, have a bubble bath, or purchase extra positions. The basic fare only included missionary.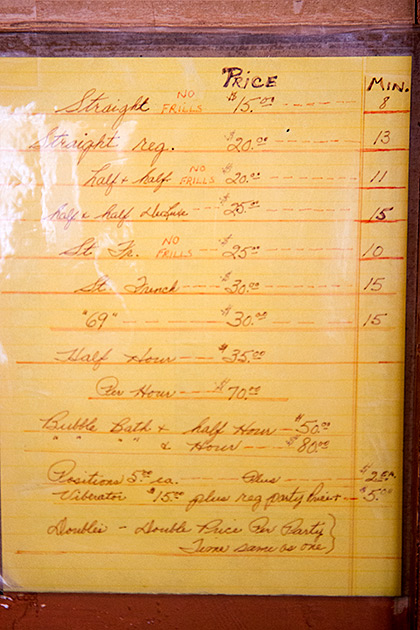 The tour was compelling, often hilarious, occasionally sad and completely surprising. I had been expecting a staid, informative presentation of the prostitution racket in Idaho's mining towns; not a bordello as it looked while still operating. We saw the girls' music collections (Lionel Richie, Diana Ross), their reading selections (almost exclusively romance novels, which broke my heart), and wardrobes. We saw where they bathed, where they ate and, of course, where they worked.
Madame Ginger had expected to quickly return and resume business, but the FBI stuck around for years conducting a wide-ranging investigation into Wallace's corrupt sheriff. When the Feds finally left, times had changed and bordellos were no longer a welcome enterprise in Wallace. With the money she had saved, Ginger moved to Coeur d'Alene and lived out the rest of her years in style.
Oasis Bordello Museum Photos