Freak Alley and Boise's Public Art
When you think of "Boise", the first thing that comes to mind probably isn't a thriving public art scene. But perhaps it should be. On almost every corner of the city, hidden in alleys, plastered across electrical boxes and even engraved in sidewalks, fascinating artwork can be found. There are bold, unmissable sculptures and paintings, but also subtle pieces which you might not even notice unless looking for them.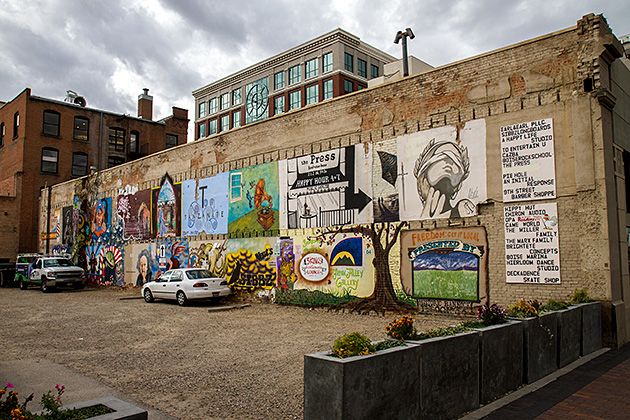 We took a tour of Boise's public art, starting in the aptly-named Freak Alley between Bannock and Idaho Streets. Graffiti is a part of life in any city worth its salt, but usually it's not all collected in one place. Boise decided to give the city's street artists a huge canvas to play on, and the result is an open-air gallery of some exciting work. Although the artists have to apply for permits to work here — an act of buerocratic compliance not often seen in the anarchic world of graffiti — they're given free rein. One of the more striking works features a blood-thirsty Uncle Sam ripping the heart out of a US soldier; a piece of political agitprop that I can't imagine the city fathers are thrilled about.
Freak Alley houses the most visible of Boise's public art, but there's much more to be found throughout the city. Artists were commissioned not just from Idaho, but from all around the country. Look at the bus stands, which have been individually designed in modern patterns. Or the electrical boxes all around Boise: each one has a different painting wrapped around it.
On 9th and Idaho, look at the ground; there's a string of leaves etched into the concrete, leading from tree to tree. At Grove Plaza, take a second glance at the statue of herons fishing in the river; if you get on your knees, you'll find something hiding in a log. On Grove and 9th, there's a wonderful tribute to the city's canals which glows green at night. And nearby, a series of streetlamps contain miniature robots which play music as pedestrians pass by.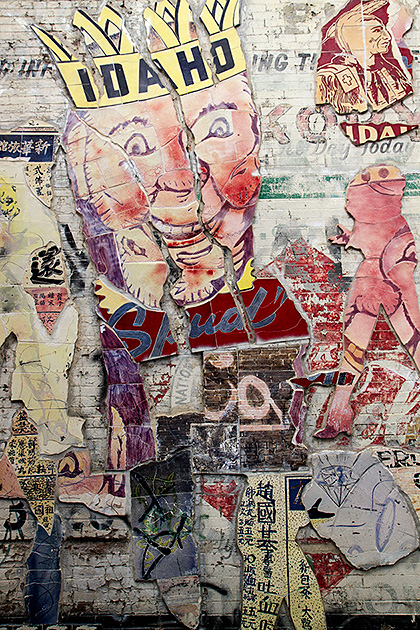 Upside-down trouts, disembodied bear heads, multi-paneled postcards, a gold prospector made of barbed wire… we saw a lot of fun art during our tour. Perhaps my favorite was a piece called Alley History, by Kerry Moosman. This giant mural on the 9th Street Alley between Bannock and Idaho combines old street signs, ceramics, Chinese calligraphy and more in a wonderful tribute to the city's history.
Boise's commitment to the arts is amazing. I always made sure to keep my eyes open while walking the streets of the capital, and spotting new art became almost like a game. It can be found everywhere, and life in the city is undeniably better for it.