Around Redfish Lake on Horseback
We had done whitewater rafting, zip lining, mountain biking and a whole lot of hiking — but there was still one more outdoor activity we wanted to try: horseback riding. And we couldn't have chosen a better place to knock it off our list than in the Sawtooth Mountains around Redfish Lake.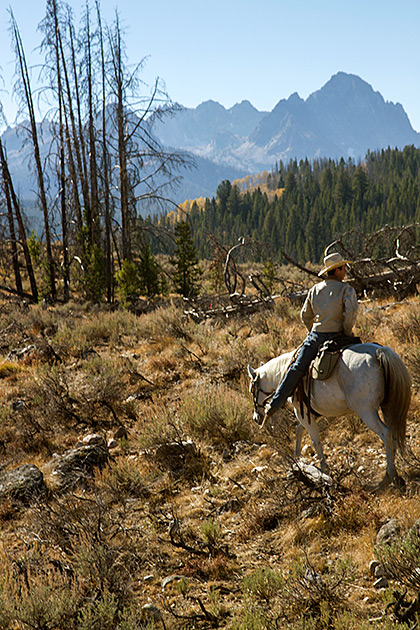 Our trip was organized with the friendly folks at Redfish Lake Corrals. It was right at the end of the season, a spectacular fall day, when we met our guide Cody at the corrals. Cody the Cowboy. Perfectly named and a great guide; friendly, knowledgeable about the area, and patient with our bumbling horse skills.
I was eight years old the last time I was on a horse, and Jürgen has kept his distance ever since one bit him as a child. So we're not exactly expert riders. Luckily, our horses, Bennett and Wyman, were tame as could be and easy to manage. After a few tips from Cody, I was up in the saddle and steering Bennett around with no problem. I asked Cody how I was doing. "Pretty good!" Just like a real cowboy, huh? [… silence].
Our 90-minute "Alpine Ride" took us up into the hills around Little Redfish Lake, offering unforgettable views of the Sawtooth Mountains in the distance. I was surprised by how quickly I became accustomed to being on horseback; it was comfortable and I liked getting out into nature without having to do any exercise myself. Bennett didn't seem to mind carrying me around. He was a trusty walker… kind of gassy, but that only won him points since Jürgen was right behind us, groaning with every sloshy-sounding fart.
It was a memorable day out, and one I'd repeat in a heartbeat. If you're interested, get in touch with the guys at Redfish Lake Corrals. I doubt it's even possible you could be dissatisfied.
Redfish Lake Corrals – Website