The Sierra Silver Mines of Wallace
The history of Wallace is synonymous with that of silver mining in the Coeur d'Alene Mountains. The town was founded when silver was discovered, thrived as long as the mineral was abundant, and faded once the mines closed up shop. The Sierra Silver Mine Tour confidently describes itself as "the most popular, interesting, and instructive tour in the Northwest", and offers an excellent primer to both Wallace and the industry which defined it.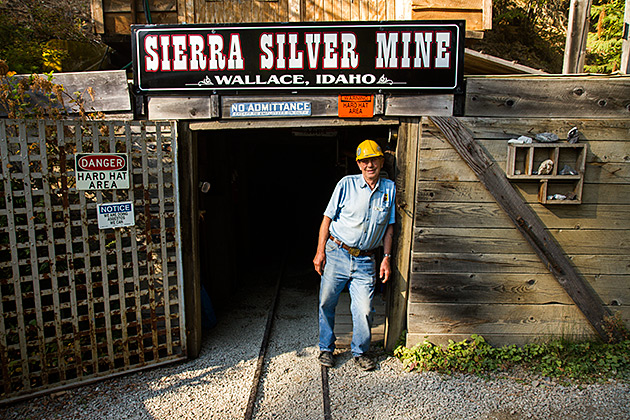 Our tour started with a trolley ride around Wallace, with the driver pointing out historic buildings and sharing anecdotes from the town's bawdy history. The trolley then drove outside the town limits and deposited us at the opening to the Sierra Silver Mine, where a retired miner was awaiting us. He outfitted us with hard hats, gave us a short history of the mine, and then led us into the underground.
Discovered around 1900, the Sierra mine was a dud which never produced any real riches. It had a few different owners throughout the years, but regardless of how far or deep they dug, silver was never discovered in sufficient quantity to justify full-scale mining. In 1982, the mine was purchased by a group of locals who opened it up to tours, hoping to preserve and promote Wallace's mining history and heritage.
Our tour underground lasted an hour. During it, we were taught how to identify silver and lead, and how these differ from lesser-value metals like zinc. Turns out the sparkliest stuff isn't necessarily the most exciting. Our guide also demonstrated some of the equipment used by the miners of the early 1900s, such as a giant drill which was at least twelve feet long. My favorite was the slushing machine, which removed the sludge and water produced after a blast.
It was a fun tour, and an interesting peek into the history of the industry that shaped the Silver Valley.
Sierra Silver Mine Tour – Website