Biking the Hiawatha Trail
Billed as one of America's most unforgettable bike rides, the 15-mile Hiawatha Trail follows the path of a former train route through pitch-black tunnels and across bridges which overlook vast valleys of pine. On the final weekend of the season, we rented bikes and completed the trail — "unforgettable" doesn't even begin to describe it.
Our guide for the day was Chris Barrett, who met us at the Lookout Pass Ski Lodge, just over the Idaho-Montana border on I-90. After getting outfitted with bikes and packed lunches, we drove to the trail's starting point. The day's prognosis went from "good" to "glorious" when Chris told us that the trail would be almost entirely downhill; a shuttle bus run by the ranger station would return us to the starting point. Works for me. My favorite type of exercise is the kind that doesn't involve exercise.
The Hiawatha Trail opened up in 2001 as part of the Rails to Trails initiative, which seeks to restore life to decommissioned train tracks across the country. Between 1906 and 1909, the Milwaukee Road Railway Company had constructed this unprecedented line through the rough and largely unexplored Bitterroot Mountains. The result was an engineering marvel: tunnels, bridges and the first long-distance tracks to be electrified. Eventually, passengers were able to travel west along the rails in the fabulous Olympian Hiawatha: a domed, double-decker car which connected Chicago to Tacoma. Eventually supplanted by air travel and semi-trucks, the route saw its final train in 1980.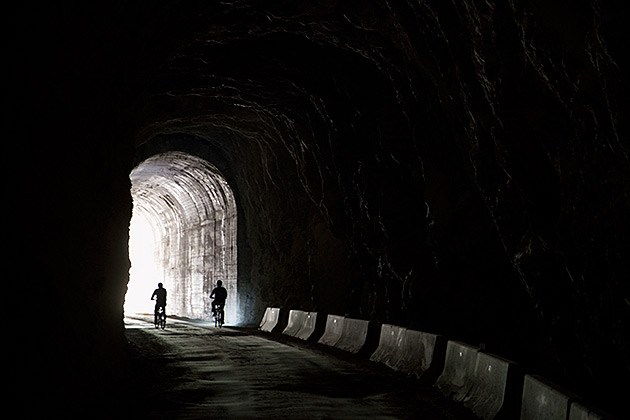 The conversion of the train tracks to a bike route was an inspired idea. The Hiawatha is gorgeous, soaring through the Bitterroots atop pristine forests of white and lodgepole pine trees. The path took us through nine tunnels, including the 1.66-mile St. Paul Tunnel, but I most enjoyed going over the old trestled bridges. We stopped frequently in the middle of them, leaning over the sides to peer into the canyons below. Amazing that workers had built thee things by hand, over a century ago. Just looking over the side was enough to make me sick.
We paused for lunch on one of the bridges, letting our feet dangle over the edge and having hilarious conversations with Chris. He's a snowboard instructor in the winter, and you get the feeling he spends about 90% of his life in the great outdoors. A fun person to spend the day with, and he sports the sickest tattoos I've ever seen.
The Hiawatha Trail closed for winter at the end of September, and we were lucky to be make it on the last weekend. It was easily the most enjoyable bike ride I've ever done. Beautiful scenery, fun company and an easy, downhill trail. For any fan of nature, it's absolutely unmissable.
–Download our popular Idaho Travel Book
Location of Lookout Pass | Hiawatha Trail Start
Official Website: Ride The Hiawatha