Kellogg – Our Base in the Silver Valley
Although it's not as well-known as nearby Wallace, Kellogg is the Silver Valley's largest town, and was our base during our four-day stay in the region. It's a nice village stretched out along the Coeur d'Alene Mountains, with a population around 2000; less historic and picturesque than Wallace, perhaps, but with a burgeoning tourism industry of its own, thanks largely to the Silver Mountain Ski Resort.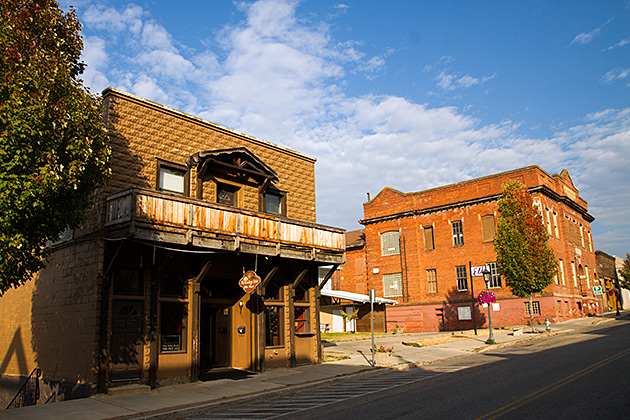 We stayed at the The Summit, a small house rented out by Kellogg Vacation Homes. Comfortable, with plenty of room to stretch out, a fully-equipped kitchen, washer and dryer, and an enormous hot tub. Our days in the Silver Valley were packed with activity, and an extended soak in the hot tub was the perfect way to end every night.
In 1885, prospector Noah Kellogg was searching for his lost donkey, and found it grazing near a large deposit of valuable galena lead. The town was established shortly thereafter, and people from the Silver Valley are fond of pointing out that Kellogg was "founded by a jackass, and still inhabited by its descendants". Like every town in the region, mining was the only industry that mattered for a very long time. It was in Kellogg that the Sunshine Mine Disaster of 1972 happened. Almost a hundred men were trapped in the mine when a fire broke out, and 91 of them died of carbon monoxide poisoning.
We took a self-guided walking tour of Kellogg's historic downtown; it's just a single street and took all of five minutes. Not overly impressive, but we did stumble upon one unique shop. From the window, Sideways looked like a model train shop, but inside we found an RC funpark where model car aficionados can come to play and race. The bulk of the shop is an enormous track, complete with mountains, ponds, shops and even a zeppelin landing-pad. Spectators can sit in dining booths, and a motorized train putters around the shop delivering hot dogs and snacks.
We really enjoyed our short stay in Kellogg; an unpretentious and surprising little town. For those looking to spend some time in the Silver Valley, it's a good alternative to Wallace.