Kellogg's Crystal Gold Mine
The day after visiting the Sierra Silver Mines in nearby Wallace, we were invited to check out Kellogg's Crystal Gold Mines. Two mines in two days might sound repetitive, but they offered sufficiently distinct experiences to make each worth the time.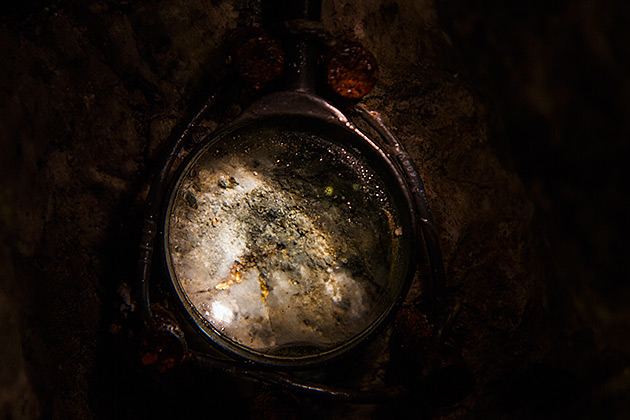 Where the most memorable aspect of Sierra Silver Mines had been its still-working equipment, that of the Crystal Gold Mine was its history. This was the first hard rock mine explored in the Silver Valley, dug out by a small group of prospectors years before the silver rush which brought about the first permanent settlers. The identity of the men responsible for the Crystal mine remains shrouded in mystery.
Our guide for the day, a former miner who joined the Navy when the industry slowed, showed us the veins of quartz which the gold-seekers followed into the underground. Gold is often mixed with quartz, and he pointed out some nuggets still embedded in the hard, white rock. No one knows how much gold this mine produced, but considering how much was left when the mine was rediscovered, it must have been a substantial amount.
The miners vanished suddenly, for reasons which are unascertainable. Their equipment, advanced and expensive for the day, was left behind, and the mine's entrance was sealed up and carefully concealed. It seems safe to assume that they intended to return. The mine was so well-hidden that it remained undiscovered until 1991.
Our tour took about an hour. We learned about various minerals, including the beautiful and worthless Smithsonite, and got to experience the unsettling sensation of absolute blackness when our guide shut off the lights completely. We saw downward shafts now filled with water (and some fish), some of the rotted, original equipment, and an interesting exhibit which demonstrated the blast pattern on a wall packed with dynamite.
And after the tour, we got to try our hand at panning for gold in tubs kept in the yard. I was too clumsy and impatient, but Jürgen demonstrated an innate knack for it. So I wasn't too surprised when, the next day, he swung into the parking lot of a hardware store and ran inside to buy his very own pan. For weeks, every time we drove by a river, his eyes lit up with gold fever, and we had to stop. Amazingly, he never hit it rich.
Crystal Gold Mine – Website
–Receive Our Articles Straight To Your Inbox