Cottonwood's Dog Bark Park
We figured it wouldn't be difficult to find the Dog Bark Park, in the tiny town of Cottonwood. And it wasn't. There was simply no way to miss the gigantic beagle towering over Highway 95. It's just not the kind of thing you're going to accidentally drive by without seeing.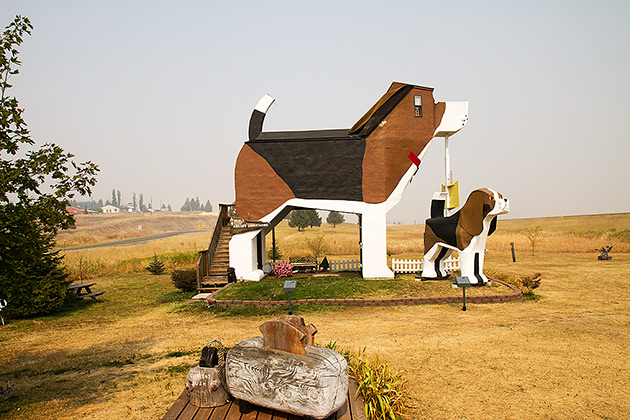 The massive wooden dog is one of America's most unique Bed & Breakfasts, the brainchild of Dennis Sullivan and Frances Conklin. Although we weren't staying the night, we couldn't resist dropping in and trying to figure out what exactly would possess anyone to create such a curiosity. It seemed a safe bet that Dennis and Francis would be interesting folks.
Their televised appearance was an unqualified success, and Frances and Dennis suddenly found themselves with 10,000 dogs to both carve and ship: a herculean task which compelled them to conscript their children and friends into the workshop to assist. It was a financial windfall which allowed them to indulge a long-cherished dream: buying land off the highway, and opening the Dog Bark Park.
The days of travelling around to trade shows are part of the past; now, customers come to them. A variety of dogs and other works of art are on sale in their store, and we had the chance to watch Dennis carve out a beagle in the workshop. Frances has become a chainsaw artist in her own right, and is in charge of putting the final touches on each dog.
Which brings us to the big boy in the yard. Sweet Willy, as he's affectionately known, wasn't actually their first giant dog — that would be Toby, the relatively little guy who sits at Willy's feet. Toby had been designed and constructed on a whim, and stoked their passion for more, larger creations. They began preliminary work on a truly massive dog, but only after a flash of inspiration over lunch, realized the purpose he could serve. Soon, Sweet Willy's Bed & Breakfast was open for business.
We took a tour of the premises. The giant beagles are just the most noticeable of the clever artwork which litters their yard. The giant fire hydrant in the yard, there for Willy to relieve himself, also hides a port-a-potty for human needs. There's a tipping tower of giant alphabet blocks, and then (because if there are alphabet blocks, there must be someone who carved them) they created a "Block Master". And then (because if there's a Block Master, he needs a place to live), they built a house for him. I suppose it's this kind of logic that separates artists from the rest of us!
We had a great time visiting with Frances and Dennis, and only reluctantly got back on the road to Lewiston. If you want to book a night in the giant beagle, make sure to call way in advance, but even if you're not staying, don't hesitate to drop in and say "hi".
Dog Bark Park – Website