Obscuring the Sky – Idaho's Devastating 2012 Wildfires
The month that we arrived in Idaho was a month of fire: August 2012 saw the state's worst wildfires in more than a decade. Thankfully, we were never directly affected by the flames, but their smoke was a constant companion, obscuring the normally clear blue skies of the Northwest behind a heavy screen of haze.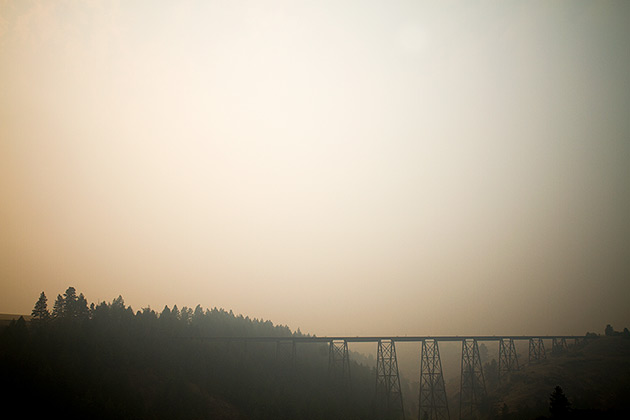 The smoke was at its worst during our days in Riggins and Lewiston, due to the proximity of the fires burning in the Nez Perce National Forest. But although we couldn't see as far as normal, the skies were entrancing; everything tinted red as the sun fought to shine through the smoke. Beautiful, but I'm not sure it was the most healthy air to be breathing during our hike in the Rapid River.
Of course, bad air and spoiled views were petulant things to complain about while hundreds of thousands of acres were burning and people were fleeing their homes. Even losing their lives. 20-year-old Anne Veseth was among the brave firefighters battling the blazes near Orofino when, on August 12th, a tree fell on top of her. A tragic reminder that the costs of these fires are incalculable.
A useful website for the current state of wildfires is InciWeb – The Incident Information System. Well worth checking out, if your trip to Idaho coincides with wildfire season.