Hoot's Cafe in Whitebird, Idaho
On the way from Riggins to Lewiston, we stopped in at Hoot's Cafe for lunch. Hoot's is owned and operated by a woman whose name happens to be Hootie, who happens loves owls, and who just so happens to resemble one. Sometimes I get the feeling that Idaho is messing with us.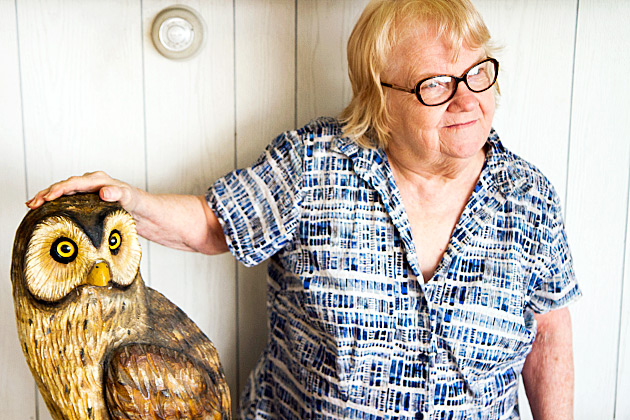 We wrangled Hootie into a chat before sitting down to lunch, and of course our first question concerned her name. Turns out, it's not a nickname. Hootie is her full legal first name, which she's had since birth. She told us that, upon considering her big, protruding eyes, her parents agreed that she looked like a "Hootie". She's lived in Whitebird all her life, and run Hoot's Cafe for over fifty years. When we expressed our astonishment, she seemed surprised; as though working in the same tiny restaurant for half a century was just the most obvious thing in the world.
Hootie then introduced us to her collection of owls. Wooden owls, decorative owls, stuffed owls, plastic owls, ceramic owls and more. Over 1200 line the shelves, walls and tables of Hoot's. Remarkably, Hootie didn't buy a single one; they were all gifts. Friends or returning customers have made it a tradition to bring her another owl for the collection. I was upset that we didn't have any owl paraphernalia in the car to give her, and briefly considered crafting something together out of a couple Coke bottles.
Lunch was great; the burgers were big, and the french fries are cut every morning from real potatoes. The best part, though, was the entertainment going on at the next table. Hootie's husband is a miner, and had just hit a gold patch. He came in with a bag full of rocks, and everyone in the restaurant had gathered around his table to admire the strike.
Hoot's is the kind of restaurant that can only exist in a town like Whitebird, Idaho. If you're passing through, do yourself a favor and stop by. And don't forget to bring Hootie another treasure for her collection.