Oh, To Be Rich in Coeur d'Alene
Coeur d'Alene is the largest city in the Idaho panhandle; a mix of remote nature, urban ease and ostentatious wealth. It's well-known in the Pacific Northwest as a resort destination, with a prime location on the lovely lake which shares its name. We had been eagerly anticipating our short, two-day stay there, and found it to be just as memorable as advertised.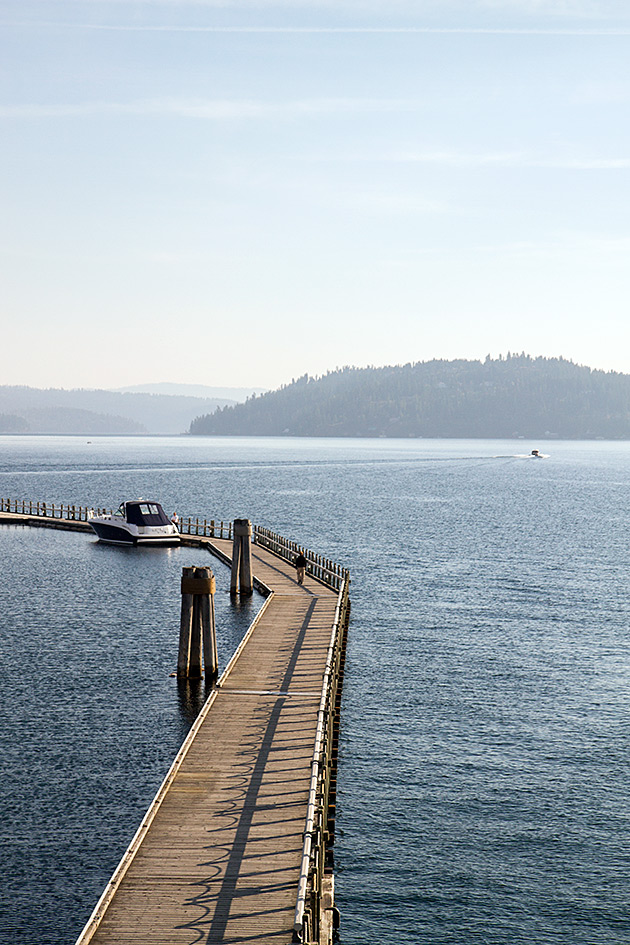 On the banks of gorgeous Lake Coeur d'Alene, you might not see another person for hours. We drove up and down Highway 97, through the historic town of Harrison and right alongside the eastern coast of the lake. On an old dock sticking out into the water, we took a lunch break, with nothing but a cool breeze for company. The faraway sound of a boat motor eventually broke the spell; Coeur d'Alene is actually one of the most popular lakes in Idaho for water sports, especially among the rich weekenders who come in from Washington and California. (See more pictures of the scenic drive.)
No, Coeur d'Alene is no hidden gem. A stroll along the boardwalk of the Coeur d'Alene Resort should convince us of that. Hundreds of expensive speedboats, sailboats and cruisers anchor in hotel's marina. It was hard not to feel inferior while passing by. Even the floating boardwalk is over the top: the world's longest. We stood on the bridge for awhile, watching a sun-tanned gentleman and his young, unnaturally voluptuous wife (we'll be kind, and assume "wife") steer their yacht underneath us and into its parking spot. A parking spot which is probably more valuable than my life.
With the lakeside resort as its nucleus, downtown Coeur d'Alene extends to the west, where there's a beach and park, and also to the north, where we found art galleries, upscale souvenir shops, slow traffic, a couple good bars and cafes, and … hipsters? Yes, Coeur d'Alene harbors a healthy population of trendy young hipsters, complete with tight-fitting jeans and thin mustaches. We spent a couple hours in Java on Sherman, sitting next to a couple fashionable young dudes who were playing chess and discussing Grizzly Bear's new album (their verdict: it's great). I almost felt like I was back in Savannah!
CDA, as the cool kids call the city, takes its name from the Coeur d'Alene people … who take their name from the French for Heart of an Awl. This strange name was bestowed upon the tribe by a French Canadian fur trader, who was impressed and frustrated by their unforgiving negotiating style. If there are any tribe members left in the city, they stay out of sight; like the rest of Northern Idaho, CDA is overwhelmingly white. 96%, in fact.
We stayed in Coeur d'Alene's Best Western, just north of the city center along Highway 95 — it was a comfortable place to rest, with decent restaurants in walking distance. After a long day of sight-seeing, we had dinner at Tomato Street, where one portion was enough for a small family. I slept well that night, belly bursting with pasta, and dreamed that I was a rich playboy tooling around the lake in my new mini-yacht. Coeur d'Alene is the kind of town that inspires such dreams of grandeur when you're asleep. And fits of jealousy, when awake.
Location of Coeur d'Alene on our Map