The White Pine Scenic Byway
Across 82 miles of old pine trees, historic towns and sparkling lakes, the White Pines Scenic Byway brought us northeast from Potlatch to the old mission at Cataldo. It was a peaceful stretch of driving, with few other cars and increasingly beautiful nature.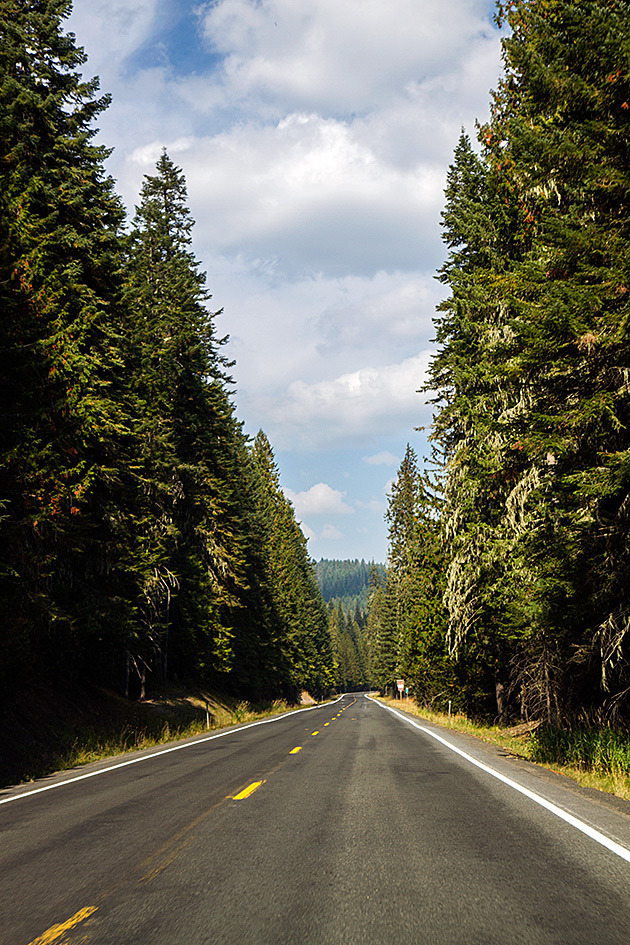 The Byway begins in Potlatch, founded in 1905 with the establishment of one of the country's biggest lumber mills. The business closed down in 1981 and Potlatch emptied out; today, it's little more than a commuter town for people studying and working in nearby Moscow. It's got a rugged charm, but wasn't enticing enough to convince us to pull over.
Highway 6 follows old railway tracks through towns and stations curiously named after famous universities. We passed through Harvard and Princeton; other former train stations included Purdue, Stanford and Yale. Soon, we were cutting north through a thick forest of Western White Pine. As few trees as possible had been cleared to build this road, and it felt as though we were driving through the legs of giants. The White Pine is Idaho's state tree.
After emerging from the forest, we reached St. Maries (pronounced Mary's): another old timber town situated at the junction of the St. Maries and St. Joe rivers. It's a neat town, larger and more lively than Potlatch. We visited the Hughes House Museum and got some grub at a gas station/pizzeria. Nearby, we found an old-time Steam Donkey; a logging winch. Like I've always said, any town with a Steam Donkey is a winner in my book.
The byway continued north past St. Maries to a set of small lakes fed by the Coeur d'Alene River. With evocative names like Black Lake, Cave Lake, Medicine Lake and Swan Lake, these pools set in the midst of the forest were unforgettable. We stopped every 100 feet for more pictures, and it's a real shame we didn't have time to hike around — Cave Lake, in particular, demanded a proper exploration.
Our drive ended at Cataldo, where the oldest building in the state is found. The Old Cataldo Mission was constructed by the Jesuits to convince the Coeur d'Alene tribe of the wonders of Christianity.