The Artsy University Town of Moscow
Moscow is best known as home to the University of Idaho. It's a college town through and through, with the kinds of shops, restaurants and environment which cater to students and professors. With its tree-lined, pedestrian-friendly streets, youthful population and progressive, laid-back atmosphere, Moscow might fit better in New England than Idaho.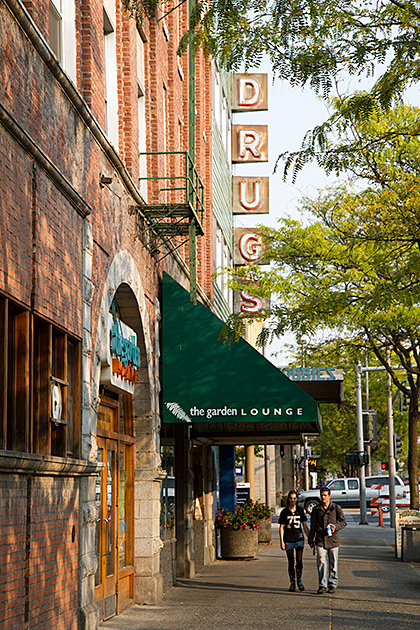 We spent a couple days walking around Moscow, exploring its bookstores, parks, museums antique shops, art galleries and other stores which defy categorization. Everywhere, there were college students with books, backpacks, and that slightly obnoxious enthusiasm of youth. Moscow was more liberal than anywhere else we'd been in Idaho. It's the seat of Latah County, which was one of only two in Idaho to go blue in the 2012 election.
Join us on a walk through town.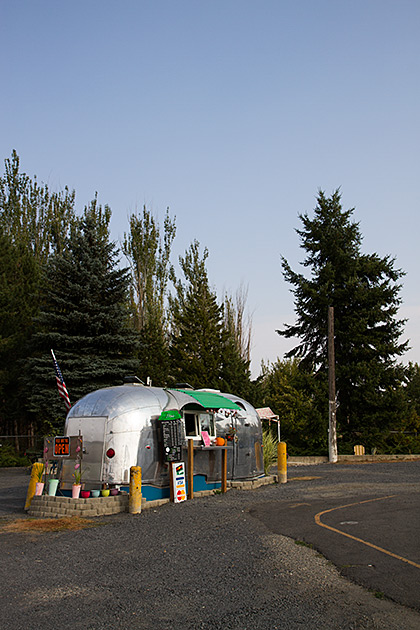 Retro Espresso was our first stop of the day. A cute espresso trailer found on the southern entrance to downtown, you can either walk-up or drive-through to get your caffeine fix.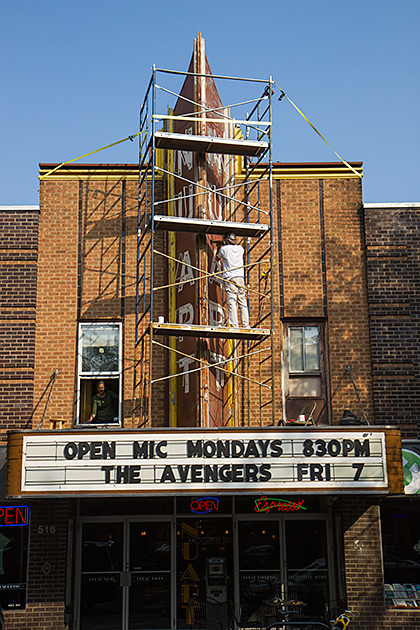 Main Street runs north/south parallel to Highway 95, and is a heavily pedestrian street featuring a neat old theater and fun shops. We browsed the selection at Book People and Howard Hughes Video, then enjoyed a great humus pita sandwich at Mikey's Gyros.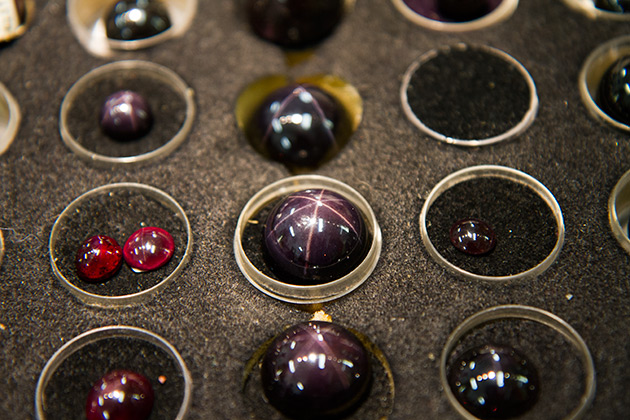 We spent half an hour in Gem State Crystals, on Main Street, learning about Idaho's star garnets and other gems, and admiring the live rattlesnake kept in one of the display cases.
The 1912 Center on Third Street, east of Main, is a grand building which used to be the high school and is now both a public gallery with photos depicting Moscow life in 1912 and a senior citizens center.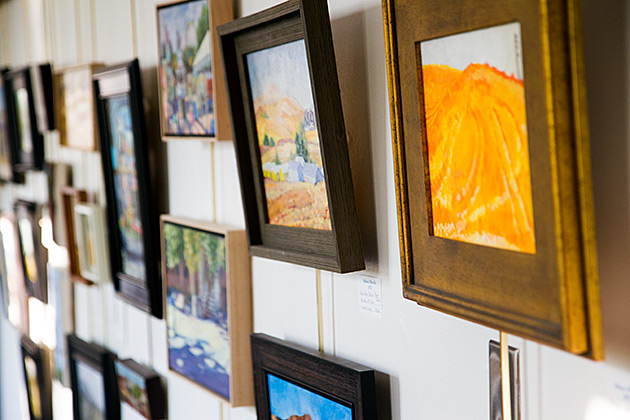 In the city hall, we accidentally interrupted some sort of town council meeting, while attempting to find the Third Street Gallery on the second floor. This gallery was currently showing the results of a painting competition of scenes around Moscow and the Palouse Valley.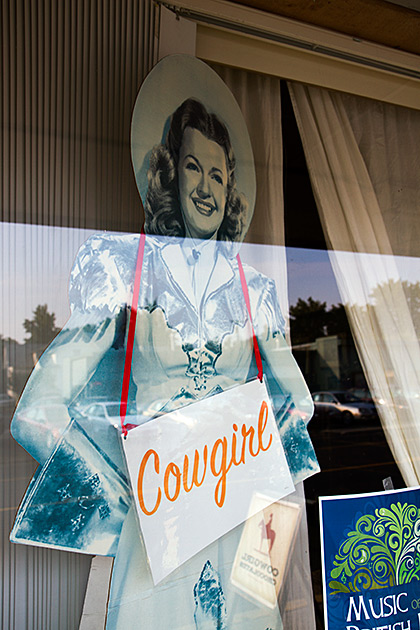 Cowgirl Chocolates brings two of my favorite things together — cowgirls and chocolates! Well, those things are actually #43833 and #248 on MY list, but I'm sure they rank a lot higher for a lot of other people. The owner is an artist who decided to get into chocolates, and sells her (very spicy) creations here, along with cowgirl-themed memorabilia.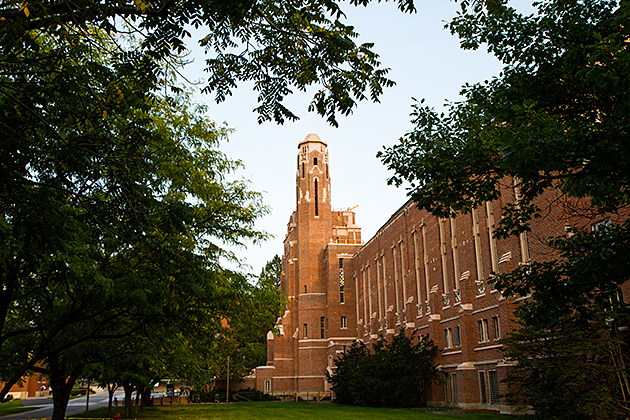 We'd be remiss not to mention the University with its massive Kibbie Activity Center and pretty campus. We didn't spend a lot of time here, but only because we were in a hurry to get to…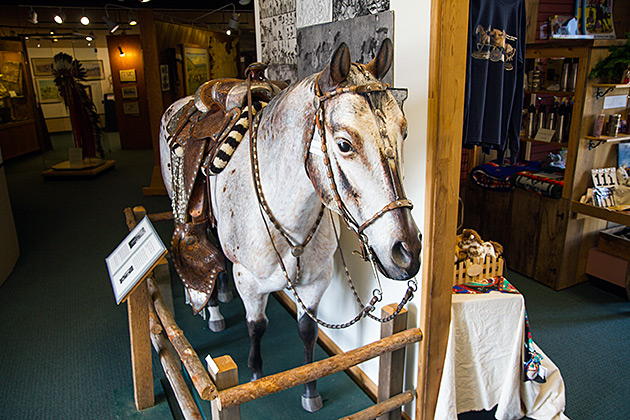 The Appaloosa Museum, which focuses on the famous spotted horse bred by the Nez Perce. Appaloosas which has played a big role in the equestrian history of Idaho. Many of the exhibits were lost on us, but if you're into horses, this is a fun place to check out (and it's free).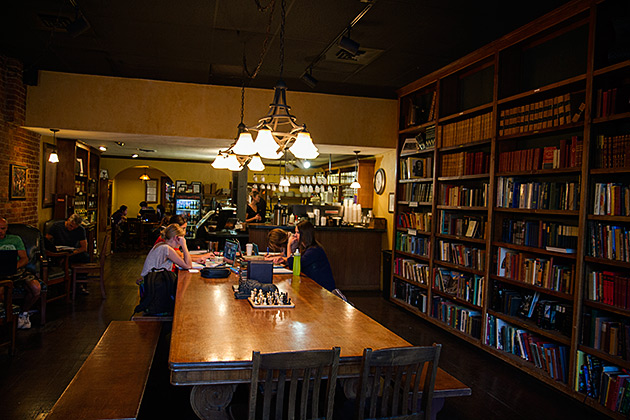 Toward the end of our day, we got a drink at Bucer's — which was most notable for the fact that every single conversation going on around us was about God or Jesus. A lot of "we'll pray for him", and "well God bless you" and "This one time at Bible Camp, I stuck…" which is when I turned my brain off.
We finished our day with an excellent dinner at Nectar, a casually upscale joint that serves a meatloaf for the ages. Here, we met a group of locals and stayed around drinking wine until closing time. It was an unexpectedly fun night, and a great end to our busy stay in Moscow.
Location of Moscow on our Idaho Map