The sun was hot on the back of my neck as I crouched down over another pile of rocks, wielding my hammer and garden fork. My legs were getting sore, and I kept forgetting to drink water, but the growing exhaustion didn't matter. Every time I had almost convinced myself to quit, a shiny glint appeared underfoot. Yes, my precious, another opal!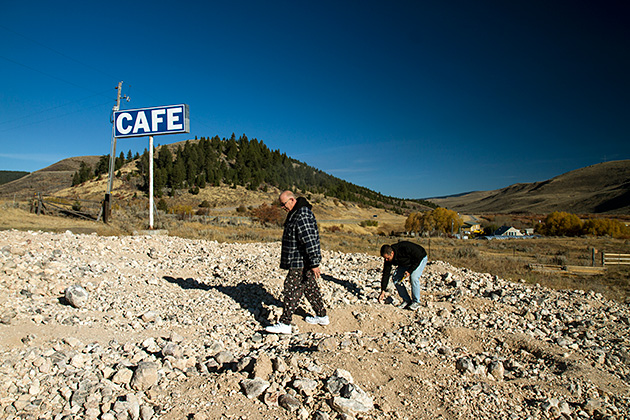 Spencer, Idaho, is a small town near the Montana border which owes its existence to the opal. The mines here are the best in America, producing stones renowned for their fine layers and exquisite color. Discovered in 1948 by a couple deer hunters, the Spencer Opal Mines have been owned and operated by the same family for the past 48 years. In 1968, after realizing they were producing more rock than they could work themselves, they opened a mini-mine for amateur gem hunters. For $10, you can scour the stones as long as you want, and keep up to a pound of opal-laden rock for yourself.
When we first read about the Spencer Opal Mines, I was more than a little suspicious. "Sure", I thought, "like they really dump it into a public mine, without first removing all the good opals". But as soon I saw the pit, I realized that this is exactly what they do. It's big, with tons of rocks, and there's no way they screen them all in advance. And my skepticism was completely dispelled when I found my first opal, a yellow-colored gem, after about five minutes of hunting.
The chances of discovering a truly valuable opal in the Spencer Opal Mines aren't that bad. While demonstrating how to water the stones down and bring out their full color, the mine's owner told us about a 10-year-old kid who had recently found a huge pink opal in the public mine. He estimated that the gem could probably pay for the kid's first year of college.
After about an hour, we left the mine with two full bags of rock, our one-pound quotas easily met. In fact, I had to choose some opals to leave behind, although I could have paid a bit extra to take them all. Most of the gems we found were fairly common, the shiny white color of quartz, but we ended up with a few colorful opals were suitable to be polished and set into jewelry. Not a bad haul.
Location on our Idaho Map / Official Website