Three Great Restaurants in Cascade
For the first time in half a year, we were living in a place with a fully-equipped kitchen, and were finally able to cook at home. So we didn't eat out a lot during our month in Cascade. But occasionally, we felt like letting someone else do the work. For such a small town, there are quite a few good dining options in Cascade. Here are our favorites.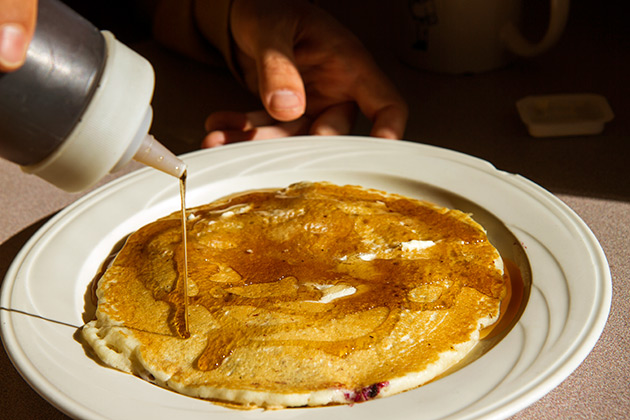 Gramma's Kitchen
Order an omelette for breakfast at Gramma's Kitchen, and you'll be skipping lunch… and possibly even dinner. Gramma serves up some giant portions. On our first visit to this unassuming restaurant on the north side of the town, I asked our waitress about Huckleberry Pancakes; even though they weren't on the menu, I thought I would try my luck. "I'm so sorry, honey, we don't have any", and so I ordered an omelette.
But the cook had overheard my request, and went about scouring the kitchen for any extra huckleberries that might be laying around. When my meal came out, it was with a giant huckleberry pancake on the side, free of charge. And just like that, Gramma's Kitchen won an eternal place in my heart.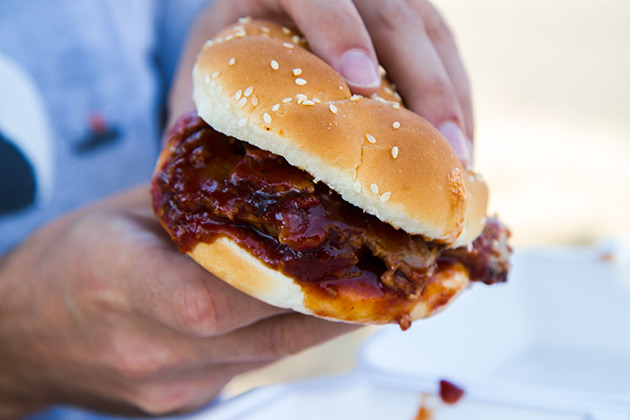 Dollar Bill's Redneck Kitchen
We stopped at the brand new restaurant called Dollar Bill's after breathless recommendations from a few people in town. Well, "restaurant" might be a stretch. Bill had just opened for business and there wasn't much to the place, besides a grill on his deck and a few tables in the yard. A little skeptical, we asked Bill to make us whatever he thought was best.
While our food was cooking, Bill told us about his story. Turns out, he's quite the character, a chef who's worked around the country at a number of posh resorts. Most recently, he was in charge of the restaurant at Cascade's Golf Club. At Dollar Bill's, he specializes in his favorite foods: BBQ and seafood chowder. We got a bowl of the chowder; rich, creamy and cheesy. Delicious. Even Jürgen, who's no fan of seafood, ate every bite.
Swing by Dollar Bill's if you're looking for a good, no-nonsense lunch. You can't miss it: the bright red cabin, where a bunch of people with barbecue-smeared mouths are sitting on benches in the yard.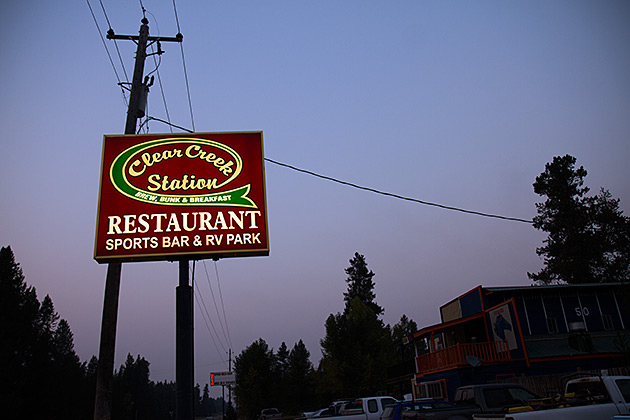 Clear Creek Station
Found a few minutes south of Cascade on Highway 55, Clear Creek Station is referred to between Jürgen and I as "Merlott's". Anyone who watches True Blood will understand the reference. Clear Creek Station is just like Merlott's. The owner even looks like Sam, and has the same affable personality. I'm not sure about the shape-shifting abilities.
Our first time in Clear Creek, I ordered a side of short ribs which were the best I've had in years, and Jürgen choose a giant burger which almost defeated him. Portions are big, beers are cheap, and the place is understandably popular with locals. Absolutely recommended, even if you have to wait for a table. We liked it so much here, that we made it our final meal in Cascade.
More pictures from Gramma's Kitchen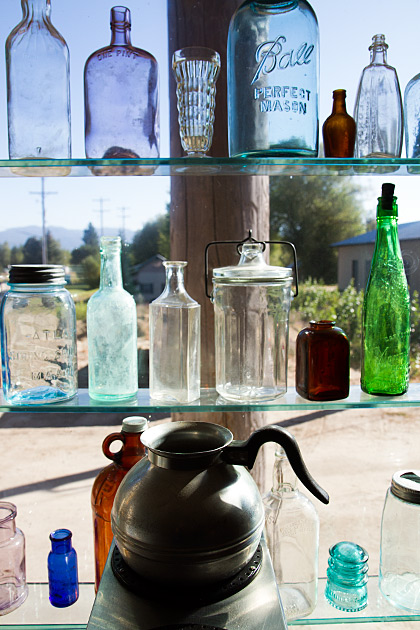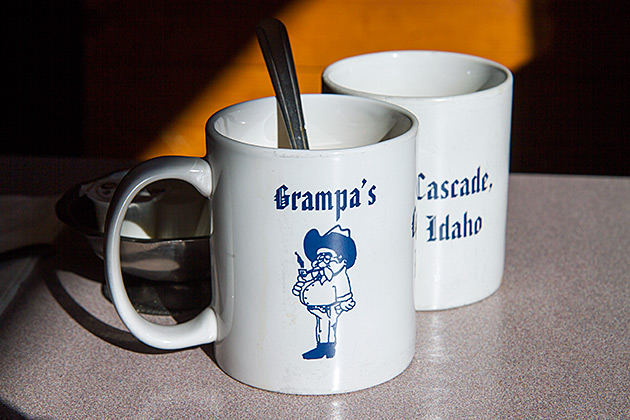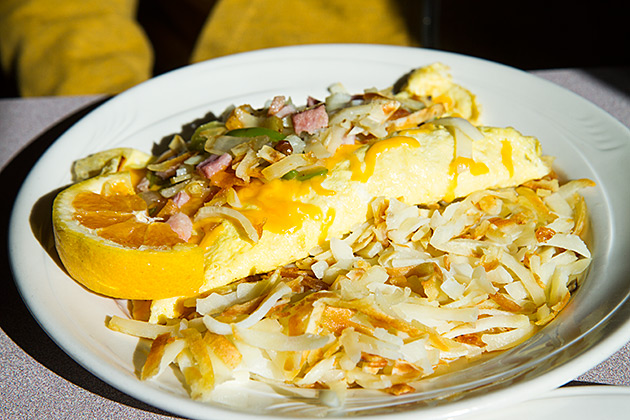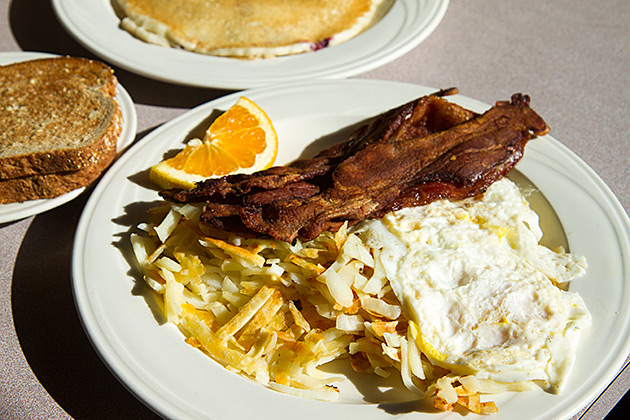 More pictures from Dollar Bill's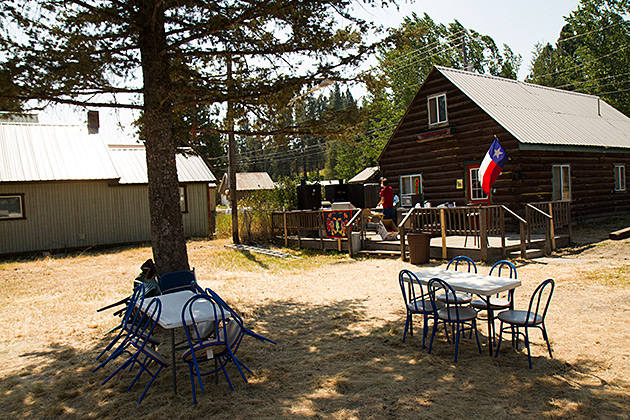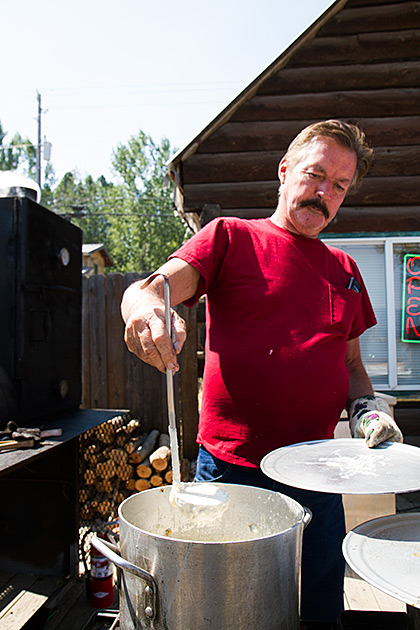 More pictures from Clear Creek Station