Buy Wine From Argentine Online
Idaho's wine industry isn't as renowned as those of California or Washington, but over the past decade, that's been slowly changing. There are currently over 45 wineries in the state, with more opening every year. During our time in Sandpoint, we stopped by the Pend d'Oreille winery, which has been racking up awards and recognition since opening nearly twenty years ago.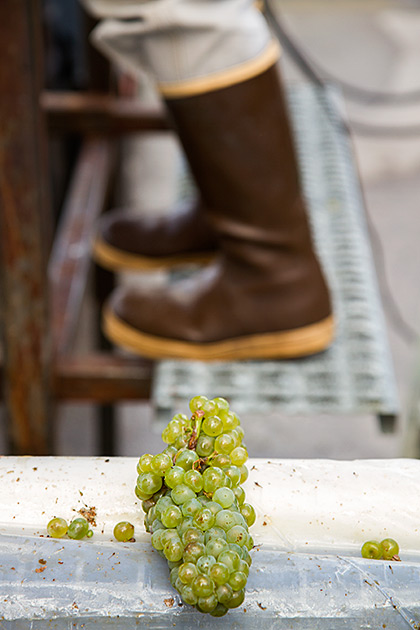 We were surprised to find the winery right in the middle of downtown Sandpoint. The grapes used by Pend d'Oreille don't grow in the area, but are brought in by truck from vineyards further south in Idaho, or in Washington. The rest of the production is done on-site. We were present as a batch of Chardonnay grapes arrived from Vickers Vineyard in Caldwell, and watched them be crushed into juice.
The owner of Pend d'Oreille, Steve Meyer, joined us during our tour and provided a short history of the winery. Originally from California, he spent a long time in Burgundy learning the art of wine-making from a Frenchman named François. Which is about as perfect as it gets. He came back to the States, and dove into the business — after moving to Sandpoint, he and his wife opened the Pend d'Oreille.
Steve brought us into the storage room where around 200 barrels were stationed and, using a bizarre contraption called a "Wine Thief", extracted some Petit Verdot. Quite good, despite not being fully finished. When he asked what flavors we detected in the wine, I said "Oak and fruity undertones". It's my standard response whenever I'm put on the spot, regardless of the type of wine I'm tasting. And it almost always works.
Inside the winery's shop, which doubles as one of Sandpoint's favorite bistros, the tastings continued. Shiraz, Chardonnay, Merlot and a Cabernet which took home the Double Gold medal in an international competition. All delicious. And, as I remarked in a loud and increasingly confident voice, many had hints of "oak and fruity undertones". We couldn't resist buying a bottle of the Shiraz to take home.
Make sure and stop by the Pend d'Oreille Winery if you have some time in Sandpoint. As long as it's not terribly busy, the crew will be happy to take you on a quick tour of the the premises. And if you can make it out of the store without picking up a bottle or two… you may be insane.
Pend d'Oreille Winery – Website