Zipping Through the Air with Silver Streak
Not much is required for a good Zip Line course. A few high-altitude hills or trees. Some poles stuck into the ground. Wire. Harnesses and helmets. That's about it. Nice views are a plus, but optional. After all, when you're flying through the air at 45mph, looking around isn't a priority. But the mountain vistas on display during our run through Silver Streak's course were too beautiful to completely ignore. Most of my zips went like this: terror ("WAGHHHHHHH!"), admiring nature's beauty ("AHHHHHHHH!"), and back to terror ("AAYYYYGGGHGHGHHG!").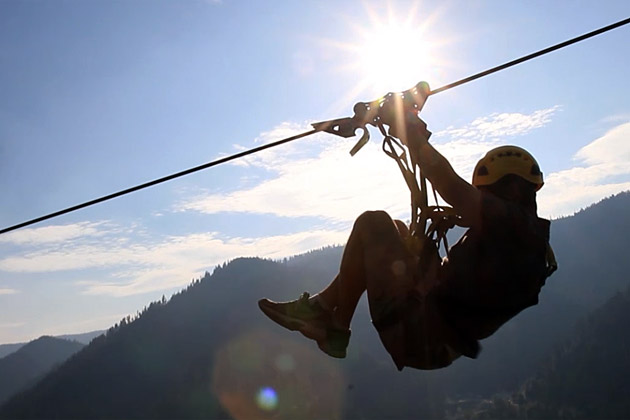 2012 was Silver Streak's first year of operation, and we were invited to check out their six-run "west course". A second "east course" is slated to open in 2013. Our guides for the day were Megan and Nick, who proved capable of keeping us both alive and entertained.
The bigger you are, the faster you go on a zip line; I'm average-sized, but let's just say I was going fast enough. After a couple light zips to ease us into it, the third line was ridiculous. Over a thousand feet long, with a steep vertical drop at the beginning, speeds of up to 45 mph and a terrifying landing. It was awesome, but I was glad not to be as big as 6'6″ Jürgen. I estimate my facial expression during the landing had a terror/fun ratio of 60/40. His was more like 95/5.
Zips four, five and six just kept upping the ante. I especially loved the last one, which allowed Jürgen and I to race against each other (he won). The tour lasted about two and a half hours, including the drive to and from the mountain, and refreshments were included. If you're looking for an adrenaline rush during your trip to the Wallace area, Silver Streak Zip Lines will fit the bill.
Silver Streak Zipline Tours – Website