A Walk About Historic Wallace
Without a doubt, Wallace is among the most unique towns that we've ever set foot in. The entire downtown district is on the National Register of Historic Places. It had active bordellos until 1988. And leading theoretical physicists agree that Wallace is the exact center of the universe!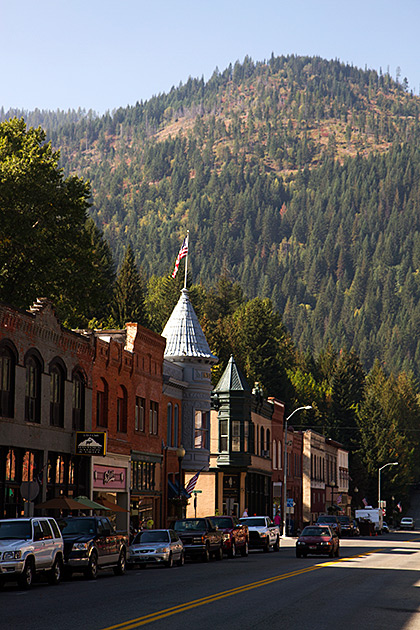 Fine, perhaps it wasn't physicists who decided that Wallace was of such cosmic importance, so much as drunken locals who, after a rowdy night of drinking in the Smokehouse Saloon, laid down a plaque in the intersection of Bank and 6th Street which reads "Wallace: Center of the Universe". Despite the questionable science, the nickname stuck. And extra-terrestrials seem to agree; we saw two spaceships during our walk around town.
Though "center of the universe" might be a stretch, Wallace is certainly the center of the Silver Valley mining area. Only 700 people live here today, but it was once one of the largest towns in the Pacific Northwest, and probably its most notorious. Wallace was a hard-drinking, brawling mining town famous for its bordellos, which remained open until 1988.
Originally, Wallace was constructed mostly of wood, leaving it defenseless against the horrific 1910 wildfire that ravaged northern Idaho. Thereafter, all buildings constructed in the town center used brick. The result is an exquisitely-preserved mining town from the turn of the century. The entire historic district has survived the years, and visiting is like stepping back in time.
The official walking tour of Wallace starts at the old Train Depot, then leads visitors around on a comprehensive tour of 43 historic buildings. Hotels, brothels, bars, banks… just about every single building in the old town has a story to share. Despite the town's diminutive size, we were exhausted by the end of our tour. Somehow, though, we found the fortitude to grab a seat in the 1313 Club, and treat ourselves to a delicious dinner of burgers and home-brewed beer.
–Our Published Travel Books On Amazon