An Ice Cream Social in Historic Roseberry
Maybe it was all the Mountain Dew we'd been drinking, but Jürgen and I woke up on Saturday morning with an unquenchable thirst for crazy action. "Dude!" I yelled at him. "Extreeeeme!" came his frenzied reply. Mouths frothing, we examined our options. Repelling in the Sawtooths? Lame. Kayaking in Hell's Canyon? Snooze-ville. But what's this? An ice cream social in historic Roseberry? Sounds like it's time to get our party shoes on!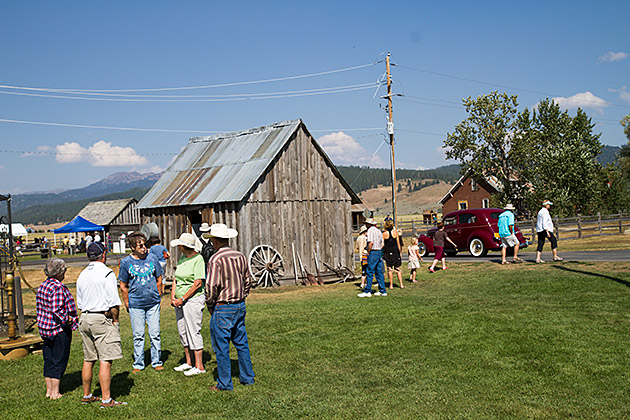 In its heyday at the beginning of the 20th century, Roseberry was among the most important towns in central Idaho, boasting two schools, a telephone exchange, stores, churches and a bank. But its fortunes changed irreversibly in 1914, when the railroad decided to build their line a mile and a half to the west, founding the new town of Donnelly. Businesses quickly abandoned Roseberry, even picking up entire structures and moving them down the road. By 1939, the last store had closed and it became little more than a ghost town.
But for the last few decades, there's been a concentrated effort to bring life back to the town. The Long Valley Preservation Society has been working to turn old Roseberry into a place of historic interest. Barns have been rebuilt according to the original plans, the general store has been renovated, and the churches and houses now look much as they did in 1907.
Saturday's ice cream social provided a great excuse to check it out. Houses were open to the public, and locals dressed in period garb were on-hand to relate Roseberry's history and describe the buildings, most of which were Finnish in origin. We wandered from the "Barn at Roseberry" to the 1905 Arling House, and saw the 1898 Korvola Cabin… it was like a giant outdoor museum.
We had a great day out. The ice cream was free and delicious, and the town was packed full with visitors. We hovered around the proceedings a bit, checking out classic cars and eavesdropping on conversations. Everyone seemed to know each other, which I suppose isn't surprising. We stayed until the bagpipe band finished their performance, then headed home.