A Labor Day Hike to Loon Lake
A popular walking loop leads from the Chinook Campground in the Payette National Forest, along the banks of the Sesech River to the majestic Loon Lake. We woke up early on the Sunday of Labor Day weekend to tackle the hike, which impressed us not only with its beauty, but with a fascinating piece of history hidden within the woods.
For the first few miles of the hike, we followed the Secesh River, shining brilliantly in the morning light. It's pronounced "SEE-shesh", with its roots in the word "secessionist". After the Civil War, gold prospectors from all over the nation settled in nearby Warren. Conflict inevitably arose between the former Union and Confederate loyalists, and tribal lines were drawn. Northerners stayed in a part of Warren which they coined Washington, while Southerners settled across the river, henceforth known as the Secesch.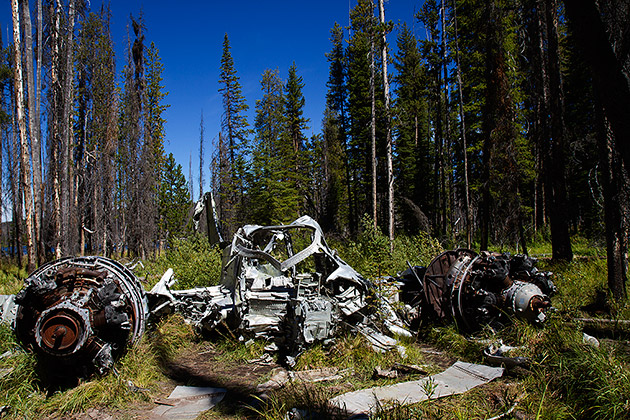 In February of 1943, a B-23 Bomber got lost in the snowy mountains of Idaho. Short of fuel, the eight-man crew searched desperately for a place to touch down. In the nick of time, they spotted Loon Lake: frozen over and just spacious enough to attempt a landing. The plane skidded across the ice and crashed into the trees on the lake's southern shore.
Everyone survived the rough landing, but they weren't yet out of danger. Completely lost in the wild back-country of Idaho, they had no means of communicating their location, or any idea as to where they were. For fifteen days, they held on, reduced to eating bark, leaves and squirrel. Lucikly, a commercial pilot from Warren eventually discovered the wreckage, and was able to rescue the crew, all eight of whom survived.
The wreckage from the Chinook Bomber is still in the woods, near Loon Lake. After 69 years, it's more intact than I would have believed. We walked around the bomber, and poked our heads into the wheel well and cockpit. A stirring testament to man's will to survive.
The trek back to the car was long; five miles through burnt forest, with Labor Day traffic to contend with. This is a popular trail for dirt-bikes, which hindered us from truly enjoying the scenery. Every time a bike blasted by, we'd be suffocated for a couple minutes by the dust it kicked up. It was the wrong weekend to be on this trail; my eyes were sore, and I was coughing up dirt by the time we arrived back at the car.
Locations: Chinook Campground Trailhead | B-23 Bomber Remains