In the Water with Cascade Raft & Kayak
Everything you need to know about Whitewater Rafting
"Do you want to go whitewater rafting with us?" I had only asked out of politeness. Never did I suspect that my mother's response might be "Sure, why not?!"
In business for 27 seasons, Cascade Raft & Kayak is the largest whitewater company operating on the Payette River. They had invited us out for a day of rafting, and I had just assumed that my parents — who had come up from Ohio for a short visit — would be content to wait around and read a book while we got wet. Nope! Although my dad had to sit out due to the flu, he only did so very reluctantly. And my mom didn't hesitate at all.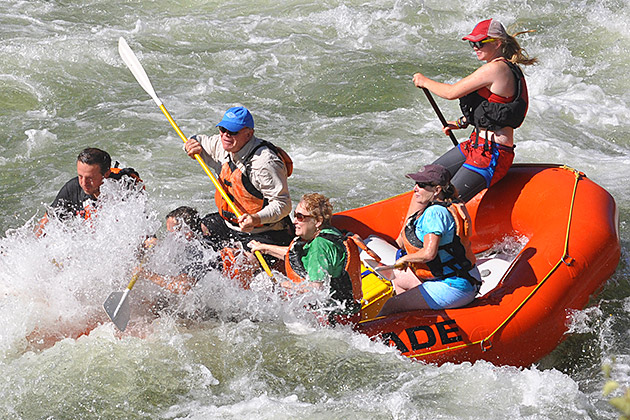 As she strapped on her life jacket and climbed into the raft, I looked at her in bewilderment. Who was this lady? My mom's most exhilarating pastimes included jigsaw puzzles and afternoon naps.
Under the direction of Lauren, our guide for the day, we set off on an adventure called "The Splash", starting at Banks and ending at Cascade Raft & Kayak's offices just north of Horseshoe Bend. Neither Jürgen, my mom, nor myself had ever been on a raft before, and this moderately easy route proved to be a perfect introduction to the sport.
Within minutes of disembarking, our raft hit the rapids known as Whitewater 101. And right away, we were soaking wet — especially Jürgen and I, who were sitting in the front of the raft. We didn't have much time to recover before hitting the next set: Whitewater 102. True to their name, these were a bit rougher. But this time, it was Mom who got it. I turned around and laughed at the sight of her, shell-shocked and soaking wet. But she was laughing, too. Getting drenched with freezing water doesn't sound amusing, but when you're on a raft, laughter seems the only reaction possible.
The water was cold, but the sun was shining bright. In between rapids. Lauren let us float slowly down the river and we'd almost dry off before hitting the next rough patch. The rapids were manageable — only once did I feel the fear of flying off. We paddled on Lauren's commands ("Forward Two! Back One!") and while tackling one reasonably calm set of rapids, she had us do the "Teacup". Those on the left side of the raft paddled forward, those on the right backwards, and we spun around furiously while crashing down the rapids.
Idaho is known as the "Whitewater State", and it's not hard to see why. There are a ton of operators to choose from, but we couldn't have been happier with Cascade Raft & Kayak.
Cascade Raft & Kayak – Website