Driving Highway 12, on the Trail of Lewis & Clark
Starting in Lewiston, Highway 12 traverses the state from west to east, through Indian reservations, along the Clearwater and Lochsa rivers, and into some of the state's wildest country, until finally arriving at the Lolo Pass, where Lewis and Clark crossed over from Montana and became the first white men to step foot in Idaho.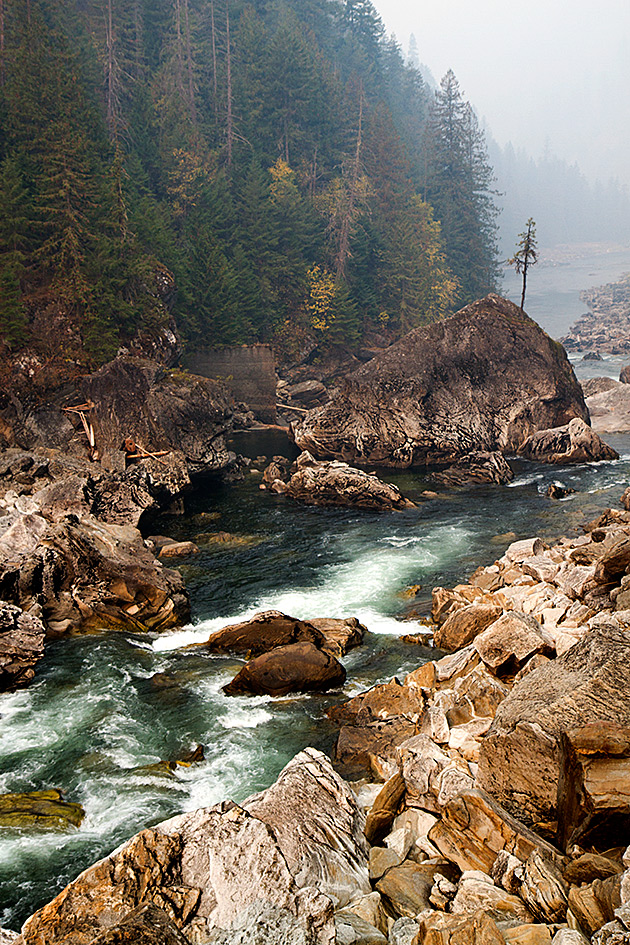 By starting in Lewiston, we were following Lewis & Clark's trail in the wrong direction. They had reached Lewiston in 1805, when the Nez Perce were at their cultural height. In honor of the region's original settlers, a beautiful statue by the name of Tsceminicum sits at the confluence of the Snake and Clearwater Rivers. A Nez Perce woman kneels on the ground, while the legends and symbols of her people appear to flow out of her like a river.
Today, the 202-mile journey from Lewiston to Lolo Pass requires about three hours in a car, but it took Lewis, Clark and their Corps of Discovery well over a month to complete. Highway 12 doesn't follow the exact trail: the much rougher Lolo Trail, just to the north, is the path the expedition party actually used; it's still open to traffic, but expect to go about 15 miles per hour.
After passing through the reservation towns of Orofino, Kamsiah and Kooskia, we reached the tiny community of Syringa, where Scott Swearingen and his family welcomed us into their Lewis & Clark Trail Cabin. We arrived just before dusk, tired and ready to relax. As though he'd read our minds, Scott started a campfire, and we sat around chatting with him until it was dark. The next morning, he had a hearty breakfast waiting for us — just what we needed before another long day on the road. The cabin was rustic and comfortable, and well-situated for a trip along Highway 12. To book a night, contact Scott and Pam via Air BnB.
The next day of driving was completely different. Whereas we'd encountered a number of towns on the first day, the road cut through remote territory on the second. Just outside of Kooskia, we saw a sign warning us that there'd be no petrol for 88 miles. And after the road entered the Clearwater National Forest, we didn't see another town for hours. This was untamed wilderness of river and forest, with little other traffic.
Lewis & Clark's expedition took place so long ago, and the landscape of America has altered so drastically, that it's difficult to put ourselves in their shoes; to truly appreciate how dangerous and rough their adventure must have been. But along Highway 12, you can journey through the same wilderness as they did, over 200 years ago. Besides the cement of the road and a few interpretive signs set up along the side, not much has changed.
–Download our Idaho Travel Book here!