Table Mountain… and Crime in the Tetons
While we were visiting Driggs, we couldn't resist sneaking over into Wyoming for a hike in the Grand Tetons. Sure, we're supposed to be concentrating on Idaho's sights, and yes, there's plenty to see without ever leaving the state. But look at them! How could we resist?!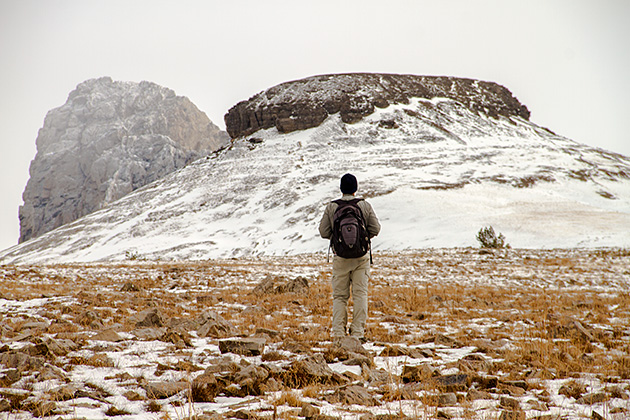 We had chosen to embark on an eight-mile hike to Table Mountain. While parking our car at the Teton Campground trailhead, just over the state line, we should have sensed the sinister shift in the air. We had left the safe haven of Idaho for Wyoming, a lawless land of thievery and malice, and it was a decision we'd regret. But we'll get to that later, because the hike was amazing, and it's better to concentrate on the positives.
The trail to Table Mountain was exhausting, sharply uphill for the first six miles, with a gain of over 4000 feet in elevation. But it was a glorious day; autumn was in full swing and the Tetons provided such a dramatic backdrop that it was easy to ignore our burning thighs. As we neared the flat cylinder-shaped summit of Table Mountain, the unmistakable profile of the Grand Teton came into view. After cresting the top, we took a long break to appreciate the landscape below us. Fresh air, unforgettable views, pure nature, exhausted muscles and the satisfying feeling of accomplishment, there's nothing that makes me happier than hikes like this, and I was in tremendous spirits during the walk back to the car.
My mood changed immediately, though, once we arrived. Thieves had broken into our car and stolen my laptop and tablet. Unbelievable. Here, we travel around the world, Sri Lanka, Buenos Aires, Bolivia, and the first place we're the victims of crime is Wyoming. The cops told us later that, although they have suspects, it was unlikely we'd ever see our stuff again. There's a gang which targets cars parked at trailheads. Pretty clever; it's a remote location where people are guaranteed to be gone for hours.
The theft was a setback, but we got off pretty lightly. Everything we own was in that car. I can deal with a lost laptop, especially since it meant that I'd be getting a new one. But it was a rough end to what had been a wonderful day. Sorry, Wyoming; you have some amazing nature, but the chances we'll someday be spending 91 days with you have dropped significantly.