The Salmon River Scenic Byway
Rent Your Car Here For Your Next Idaho Road-Trip
Idaho has no lack of scenic byways. There are 30 which criss-cross the state, and during our six-week road-trip through Idaho, we made an effort to complete as many as possible. Each had something recommend it, from historical sites, to crazy geological formations or interesting towns. But for amazing scenery, none beats the Salmon River Scenic Byway.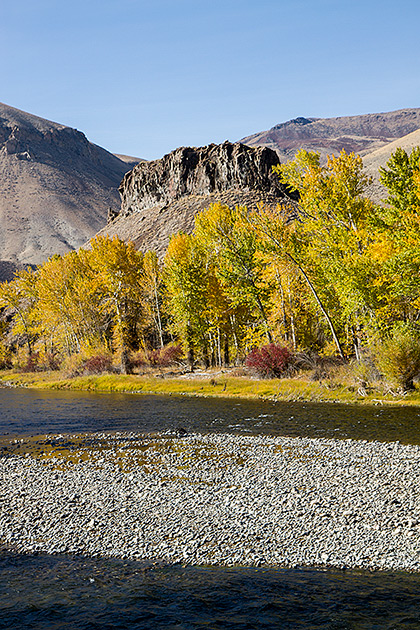 This byway begins at the Lost Trail Pass, on the border between Montana and Idaho. From here, it's a 161-mile journey along Highway 93 to Stanley, through Salmon and Challis. Both of these small towns are worth a stop, Salmon for recreational opportunities on the river and Challis for the Sacajawea Interpretive Center, but it's the nature you'll remember most. The byway hugs the mighty Salmon River along its southwest course, offering landscapes that have changed little in the past 200 years, when Lewis and Clark arrived over the Lost Trail Pass.
The road passes from the Salmon National Forest into the Challis National Forest, and wildlife-viewing opportunities are excellent the whole way. We stopped and hauled out the binoculars multiple times. Outside Challis, a bald eagle soared over our heads. White-tailed deer fed in distant pastures. And most excitingly, we found a large group of bighorn sheep grazing along the side of the river, 30 miles north of Stanley.
At first, we thought they were deer and whizzed by the herd quickly, but something about them made Jürgen take pause, so we looped back around to get a better look. Turns out, Bighorn Sheep are awfully similar in appearance to deer — at least the females and youngsters, who don't have the distinctive, curly horns. Although safely off the endangered species list, they like to keep out of sight and are a rare sight.
As we approached Stanley along Highway 93, the Sawtooth Mountains came into view for the first time. With a number of peaks that reach over 10,000 feet in height, the Sawtooths are hailed as one of the last great "undiscovered" climbing destinations in America. Hundreds of alpine lakes dot the Sawtooth National Recreation Area, and the region's remoteness almost guarantees a lack of crowds, regardless of the time of year.