The best hidden gem we uncovered during our travels through Idaho was the Goldbug Hot Springs. Found at the end of a beautiful and moderately-rough hike through a canyon just south of Salmon, these cascading hot springs offer an idyllic experience, far off the beaten track.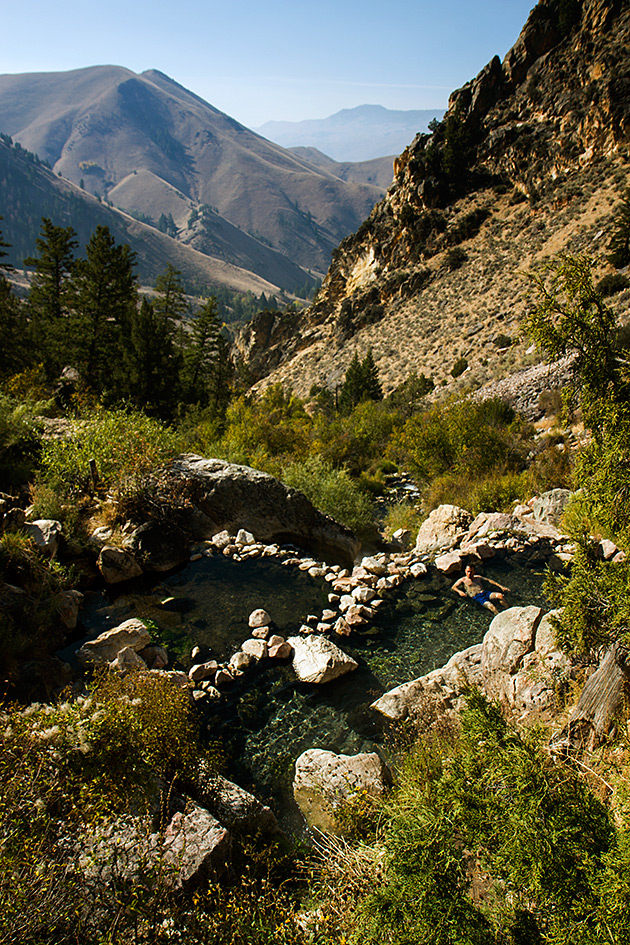 We had been completely unaware of Goldbug's existence until finding a flyer about it in Salmon's Chamber of Commerce. It wasn't in any of the guide books we read, and even most of the locals we would talk with later, from Challis to Sun Valley, hadn't heard of it. Or perhaps, they pretended not to have heard of it. Goldbug is a paradise, and there's no better way to ruin paradise than by attracting too many tourists to it.
The trail to the hot springs gets started here in a small parking lot just off Highway 93. The two-mile trail initially skirts through private property, but soon enters public land and becomes increasingly gorgeous as it follows a small stream into a mountain valley. Even without the promise of hot springs, the trail would itself make a great excursion. The final stretch is strenuous, going up into the hills, but the reward waiting at the end makes it all worthwhile.
The Goldbug Hot Springs are a collection of five or six pools complete with waterfalls and a view over an unforgettable valley landscape. The pools are of varying temperatures; warmer nearer the source, cooler further down, but never too hot nor too cold. And the waterfalls are the crowining touch; I sat underneath one for about fifteen minutes, just letting the hot water pound my shoulders and neck. Even if there are other groups visiting the hot springs, the number of pools almost guarantees some solitude.
We stayed much longer than we had planned, and felt like we were floating on clouds during the walk back to the car. Apologies to all the residents of Salmon and Challis who would like to keep Goldbug secret. We can totally understand that. But this is a piece of nature so incredible, that it simply must be shared.
Location of the Trailhead on our Idaho Map