Taking a Break in Lava Hot Springs
Hot springs play an important role in the leisure scene of Idaho, but nowhere are they as celebrated as in Lava Hot Springs. Since its inception, the town has been a place of relaxation for weary travelers and anyone looking for a place to soak their bones. We spent three blissful days here; allowing our bodies to recuperate after a few long weeks on the road.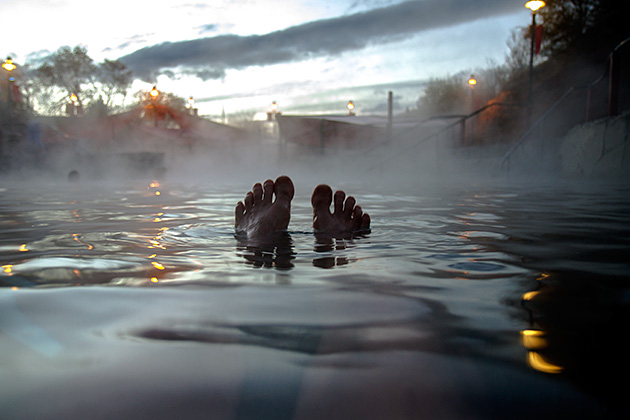 Lava Hot Springs has been attracting tourists since the days of the Oregon Trail, when it was famous as an oasis for settlers headed west. Nowadays, entrance to the pools will set you back $6. The main baths range in temperature from "pleasantly warm" to "crazy hot", and are as popular with locals as with tourists. But don't let the crowds put you off: the park is so large that you can always find a quiet corner to soak.
We used Lava Hot Springs as a base for excursions to Soda Springs and Bear Lake. While in town, we stayed in Greystone Manor: an old Mormon church which has been converted into a lodge. There are only a few rooms available, and they've been outfitted luxuriously, with giant beds, fireplaces, jacuzzi baths, lounge chairs, and elegant decoration. After roughing it through Idaho, Greystone Manor provided just the sort of ultra-comfort we desperately needed.
Greystone Manors – Website