After 91 busy days spent in the South Korean metropolis of Busan, we were ready for something completely different. So I grabbed a thesaurus and flipped to the "K" section. It's a strange and little-known fact, but it turns out that the antonym of "Korea" is "Idaho". Exact opposites. And just like that, our next destination was set!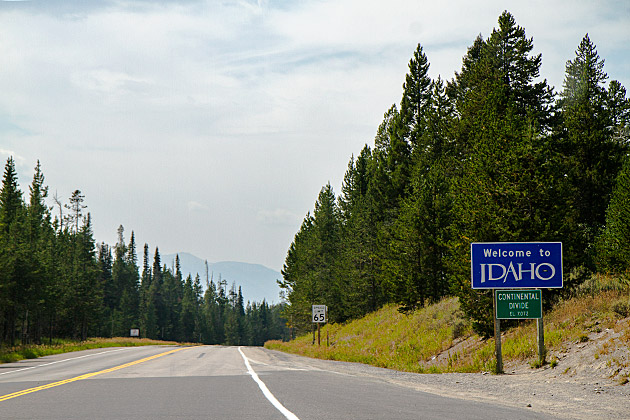 A month before arriving, everything I knew about Idaho could have fit onto a potato. I mean, it would have just been the word "potato" scratched into the side of the thing. But friends had been raving to us about the state, extolling its natural beauty and surprising diversity. If we were looking for something different to a Korean mega-city, they said, we could hardly do better than wild, sparsely-populated Idaho.
And so, after a couple weeks visiting family in Ohio, we embarked on a road trip across America. We needed three full days to arrive at Cascade, Idaho: the tiny, lakeside town in the middle of the state which would be our home for a month. Here, we would fully disconnect from city life, and begin taking advantage of some of the outdoor adventures available in Idaho, such as whitewater rafting, zip-lining, hiking, kayaking, and even hot air ballooning.
After four weeks in Cascade, we got on the road. Idaho is massive, and the only way to adequately explore it is by car. We spent six weeks driving into every reachable corner of the state, resting for no more than a few days in any one spot. Our reward was an appreciation for how diverse Idaho truly is. We saw gold mines, canyons, forest fires, hidden lakes, and hot springs, and had some exhilarating encounters with wildlife — of both the human and animal varieties.
We wound up our 91 days in Idaho with a few weeks in Boise, the state's capital and by far its biggest city. For such an unheralded spot, Boise has a lot to offer. It's large, but not overly so, and green; with a river running through the town center, it's not uncommon to see deer. Our time here was blissful; with great restaurants, strange and fascinating history, beautiful buildings and a young, hip population, it's no wonder that Boise is often touted as one of the USA's most livable cities.
Idaho proved to be an incredible home. For 91 days, the state did its best to wear us out, bombarding us with one unforgettable experience after the other. At times, it was almost overwhelming, but we persisted. ("A 15-mile bike ride, the day after zip-lining and visiting a gold mine? Bring it on!") By the time we left, we were exhausted, but had succeeded in seeing most of the highlights, as well as some hidden gems unknown even to most locals. Please enjoy reading about our adventures in this amazing state, starting with the three-day trans-American journey that brought us there.