Malad Gorge & Balanced Rock
Shaped during the Ice Age by the cataclysmic Bonneville Flood, the Magic Valley is something of a geological wonderland, loaded with canyons, rivers, boulders, cliffs and fossils. We embarked on a long driving loop starting at the Malad Gorge, through the Thousand Springs State Park to Balanced Rock, near Buhl.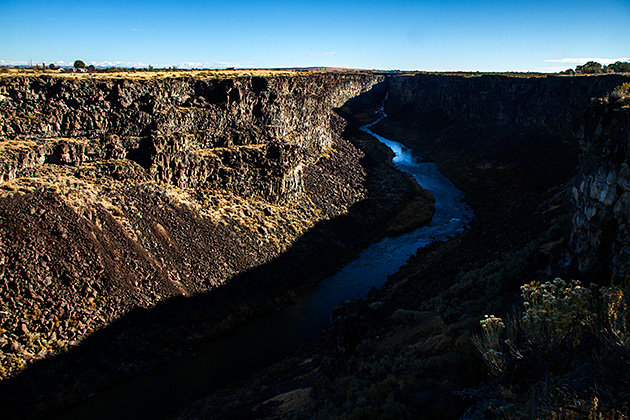 Interstate 84 passes right by the Malad Gorge, so close that you could roll down your window and throw your litter into it (if you were a thoughtless pig, which thankfully you're not). Despite the proximity, it's impossible to see the canyon from the highway, and so thousands of people blaze past daily without even registering its presence. But it's worth getting off the highway at Tuttle (exit 147) to take a quick walk.
Malad Gorge, a part of the Thousand Springs State Park, is 2.5 miles long and 250 feet deep, and there's a trail on either side of the divide. Near the highway, a pedestrian bridge places you in front of the Devil's Washbasin, where the Malad River crashes spectacularly into the canyon.
The Thousand Springs State Park isn't a park in the traditional sense, but a collection of five different units in the area around the town of Hagerman. Malad Gorge is the only one of these units which we explored, but others include Ritter Island, a birdwatching paradise in the Snake River, and the Kelton Trail, which preserves wagon wheel ruts from the Oregon Trail.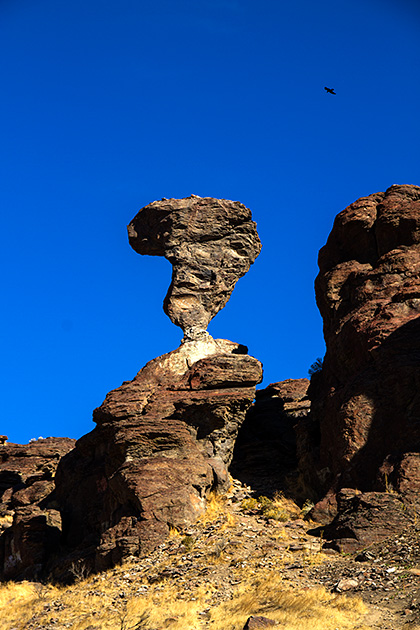 The Hagerman Fossil Beds National Monument are another protected area in the valley. It was here that, in 1928, the Hagerman Horse was found. At 3.5 million years in age, it's one of the oldest horses on the fossil record, and is thought to have resembled a zebra. There have also been mastodons and bone-crushing dogs found in the Hagerman beds. As might be expected, it's off-limits to the casual visitor but there's an interpretive center in town with a few exhibits and fossil replicas.
A few miles east from the small town of Buhl is the Balanced Rock. An impossible geological formation, this rock perched precariously on a pedestal weighs over 40 tons, reaches a height of nearly 50 feet, and is shaped just like Africa. And it looks as though it would tumble over at the slightest breeze. We climbed up to the rock and enjoyed a packed lunch with an amazing view over the valley.
Locations on our Map: Malad Gorge | Hagerman Fossil Beds | Balanced Rock