A Slow Drive Around Lake Cascade
Propped up against the Boise National Forest, and just an hour north of the capital, Lake Cascade is a convenient spot for restless city-dwellers to get their nature fix. The charming resort town of McCall crowns the northern end of the lake, while the smaller villages of Cascade and Donnelly line the east, providing an abundance of places to stay the weekend.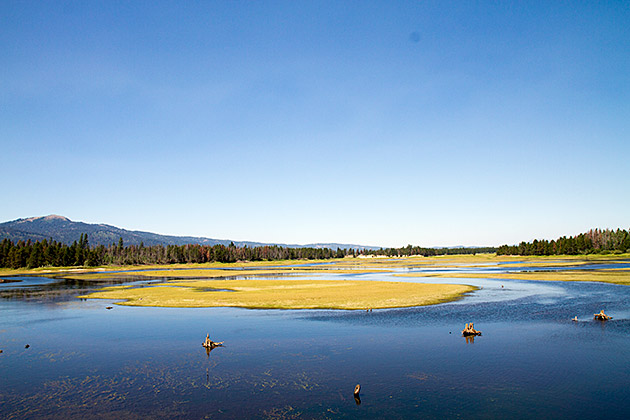 On our first full day in Idaho, we mapped out a drive around the lake in order to get a sense of its size, and also to explore the area. I thought the simple loop would take perhaps an hour, tops, but hadn't reckoned on two things: (a) how huge Idaho is, and (b) how picturesque. Lake Cascade looks like a tear drop on the map, but has a surface area of 30,000 acres.
Jürgen is a professional photographer and, after all the years we've spent travelling together, I've become accustomed to pulling over and letting him take pictures. It's his job; I understand. But during our tour of Lake Cascade, we were stopping with absurd frequency. "Pull over here. I'll be right back!" I'd wait in the car, frustration level slowly rising, until he returned, grinning from ear to ear and proudly displaying a picture of some field, or old bridge. And then, just as soon as I'd finally nudged back over 20mph, he'd ask to stop again.
On the western edge of the lake, we followed West Mountain Drive, which brought us to the doorsteps of Tamarack Resort. This sprawling four-season resort opened in 2004 and almost immediately fell into financial ruin; it's now in foreclosure. We drove up into Tamarack, past hundreds of impressive lodge houses which were impressively empty. Not a soul anywhere you looked, it was like a ghost town for very wealthy spirits. We later learned that some of these beautiful lodges had been auctioned off for as little as $60,000.
We completed our loop of Lake Cascade in four hours, and were compelled to scrap all remaining plans we'd had for the day. Underestimating the time required for excursions and road trips would be a recurring problem during our 91 days in Idaho. But Jürgen was on cloud nine, and I couldn't help but share his elation. Our first little road trip had only confirmed how amazing Idaho was going to be.