An hour and a half southeast of Twin Falls, near the small community of Almo and just a few miles from the Utah border, is the City of Rocks: a national reserve which holds some of the Pacific Northwest's weirdest formations. This silent city was a stop along the California Trail, and today is a paradise for mountain climbers.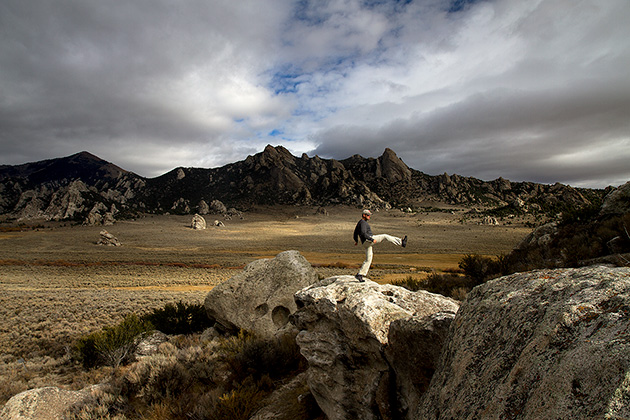 After picking up information at the Visitor's Center in Almo, we entered the park, and found the featureless farmland of southeastern Idaho suddenly swept away by towering boulders and rolling hills. We spent all day in the park, stopping the car constantly to take pictures or to hike around the rocks. I scrambled up some of the smaller ones, such as Treasure Rock, where legend says that gold has been buried, and Register Rock, where settlers would write their names in axle grease from their wagons.
It's not hard to understand the park's popularity with rock climbers. Remote, expansive and difficult to reach, the City is never crowded, and there's an almost inexhaustible number of named climbs, which range in difficulty from 5.4 to 5.12 (if you're into the sport, I assume you'll know what those numbers mean. I have no idea, but 5.12 sounds plenty difficult.) We saw one group taking on an imposing boulder known as Bath Rock. They were pros, quick-moving and sure-footed, constantly calling out verbal signals to each other. It was fun to watch, and made me a bit jealous.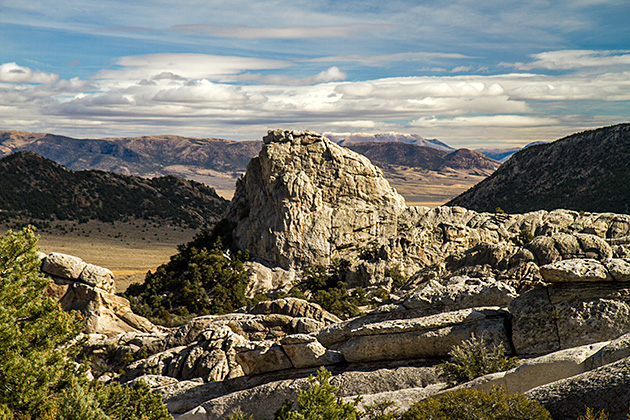 There's no development anywhere within the City, so it's not hard to put yourself in the shoes of westward settlers on the California Trail, and imagine how impressive it must have been to them. Apparently, a formation called the Twin Sisters was one of the most famous sights along the 2000-mile trail, and became the subject of many pioneer paintings. Having the Sisters in view meant that the long journey was almost at its end, and settlers would often weep at the sight.
We hiked along the Creekside Towers Trail, bringing us up and around two miles of monumental boulders, and made the short walk to Window Arch Rock, which forms a natural frame perfect for picture-taking. We also spent a long time resting with a view of the Breadloaves — a bizarre formation with a remarkable resemblance to its namesake. In all, we were in the City for nearly six hours, and could easily have stayed longer. Another amazing natural wonder in a state that has turned out to be full of them.