The Jack O'Connor Hunting Heritage Center
PETA members, feel free to skip this post. You're not the target audience for the Jack O'Connor Hunting Heritage and Education Center, and probably won't appreciate the photos which are to come (hint: a lot of dead animals). Everyone else, please follow me.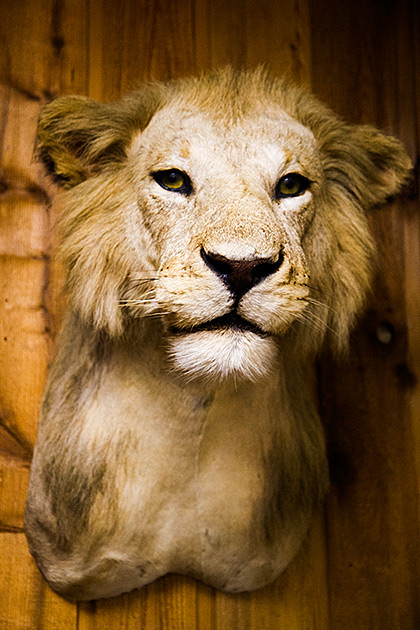 Quick, who's the greatest hunter of all time? If you know as much about hunting as we did, you're staring blankly into space right about now, with ridiculous names like "Elmer Fudd" floating through your brain. But now that I've visited his museum, I would be able to answer confidently: Jack O'Connor! Jack O'Connor is the greatest hunter of all time.
The museum, found in Lewiston's Hell's Gate State Park, collects Mr. O'Connor's trophies from around the world, along with photos and stories from his life. Animal heads from Asia and Africa to North America line the walls, including impressive kills such as Bighorn Sheep, lions, and the Greater Kudu. Despite having been beheaded and mounted on a wall, the animals somehow maintain their majesty. Touring this museum was almost more fun than a zoo, because you can get real close without getting bit.
Jack was a writer for Outdoor Life magazine and authored a number of books on hunting, some of which have become definitive guides to the sport. Born in 1902, he belonged to a different era than ours: the kind of era where it was socially acceptable to grab a gun, fly to Africa and shoot anything that moved. Back then, it wasn't a shocking moral crime to kill a tiger. You just killed the thing, and then took a picture of yourself posing with its corpse.
As is often true of hunters, Jack O'Connor was a fierce conservationist and helped promote many of the regulatory laws that still govern the sport to this day. While in the museum, I read from one of his books about the mating habits and gestation time of Dall Sheep. Sure, he was killing them for sport, but O'Connor was an absolute authority on the animals and had a greater respect for them than most anyone else.
After touring the center, we spent some time talking to the attendant, who's a hunter in his own right. Discounting The Slingshot-Frog Incident of my tenth year, I've never shot a living creature, but I appreciate the idea of hunting; the patience, skill and preparation involved, and the admiration it must give you for nature.
Location of the Jack O'Connor Museum
Jack O'Connor Hunting Heritage & Education Center – Website