The Boise State Broncos and Their Smurf Turf
With over 23,000 students, 200 degrees and 100 graduate programs, Boise State University is the largest institute of higher learning in Idaho. But rather than for its academics or gorgeous urban campus, BSU is most famous around the country for its football program. And, of course, for the crazy blue turf of its field.
BSU games are among the most popular events in the state. On matchday, every single person in Idaho smears on blue and orange face paint and crashes the nearest bar, while everyone lucky enough to be in Boise heads to the stadium. We didn't want to miss out, and bought tickets for a home game as soon as they became available. The Boise State Broncos vs. The Aztecs of San Diego State — capable rivals from the Mountain West Conference in which BSU plays.
We had been invited to a pregame tailgate party by a Twitter friend known to us only as the BSU Pimp. Any doubts we'd harbored about recognizing our host disappeared as soon as he sauntered into view. Decked out from head to toe in blue and orange pimp gear, from a cowboy hat to a sparkling sequin robe, from sunglasses to some outrageous bling that included a Bronco-colored Grill for his teeth, there was no mistaking the BSU Pimp.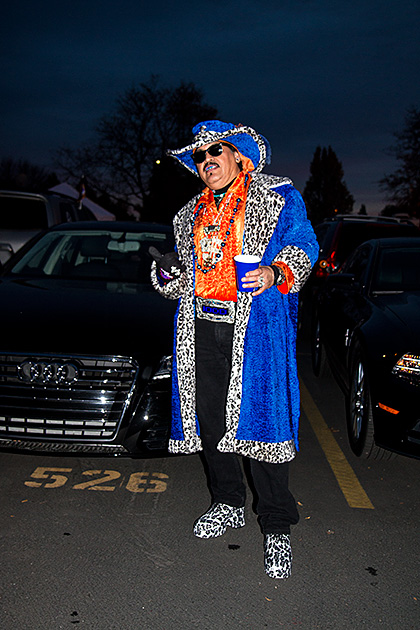 I've been tailgating before, but never like this. The parking lot was filled to capacity with trailers and thousands of fans working diligently on their intoxication levels. We hopped around to a few parties — the Pimp is well-known and much-loved in the scene — and were astounded by the set-ups. Huge TVs with satellite reception, boxes of liquor and restaurant-worthy food. We met fun people, ate tamales, shot tequila, and were actually a little disappointed when the time came to enter the stadium.
Of course, I was already grudgingly familiar with BSU's famous blue "Smurf Turf". Like 98% of American football fans, I've always found it a bit irritating. BSU's was the first football field in the nation not colored green, and since it wasn't my team's blue turf, I was never able to appreciate it. But Idaho was our home now — we were even wearing newly-bought Broncos gear — and I saw the turf with new eyes. Especially when viewed live, it's actually really cool.
The game, though, wasn't nearly as exciting as the turf. The Broncos never looked strong, and despite leading at halftime, went on to lose 21-19 to the unranked Aztecs. We were seated in the northern end zone and the crowd's energy, which had started strong, slowly and steadily ebbed into silence. But Jürgen and I were very transitory BSU fans and, unlike the crestfallen crazies around us, didn't care all that much about the score. Despite the loss, it was a great night out.