Founded in 1937, the Boise Art Museum has a premium riverside location in an Art Deco building just off Capitol Boulevard. We took a quick tour of the current exhibitions, and had the chance to meet an artist at work on her latest installation.
The Boise Art Museum consists of fifteen rooms, most of which host temporary exhibits, and a sculpture garden. The permanent collection focuses on art of the Pacific Northwest, ceramics, American Realism, and a surprisingly heavy emphasis on Asian Art. We saw some of the collection in an exhibition called Eastern Traditions / Western Expressions: pieces from Japan, China and Korea nicely juxtaposed with works from America and the west, in order to highlight just how deep the influences of the Orient reach.
We were quickly finished with our tour of the museum; the permanent collection was rather small, and there weren't any temporary exhibits at the moment. But this left us more time to watch installation artist Billie Grace Lynn at work on her White Elephants. In the museum's Sculpture Court, her team was busy arranging a collection of bags. Once fans were attached, we watched as the empty white bags inflated into enormous white elephants.
Billie noticed us and, after approaching to introduce herself, invited us to crawl inside one of the elephants. I went in with a member of her team who was busy attaching the fan from the inside. It reminded me of our elephant adventures in Sri Lanka, and that's the story of how I came to be sitting inside an giant nylon elephant, chatting about Sri Lanka with a total stranger. Not exactly how I envisioned my day when waking up that morning!
Location of BAM on our Idaho Map
Boise Art Museum – Website
Billy Grace Lynn – Website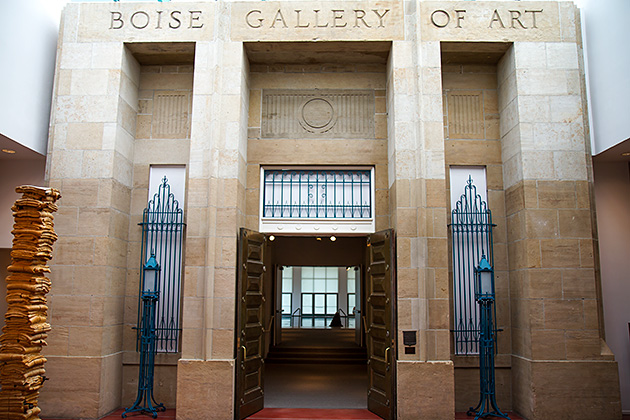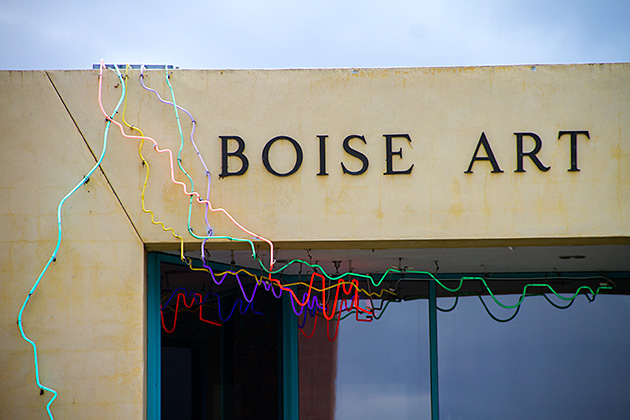 Hung Liu – Mandarin Ducks, 2005 (Oil on canvas)
Museum purchase with funds donated by Anita Kay Hardy in loving memory of her parents, Earl M. and LaVane M. Hardy – Courtesy of Boise Art Museum