The Nez Perce Historical Park in Spalding
When Lewis and Clark met the Nez Perce in 1805, the tribe controlled a territory of 17 million acres which stretched across the states of Idaho, Montana, Oregon and Washington. We visited the museum dedicated to them in Spalding, Idaho, just east of Lewiston.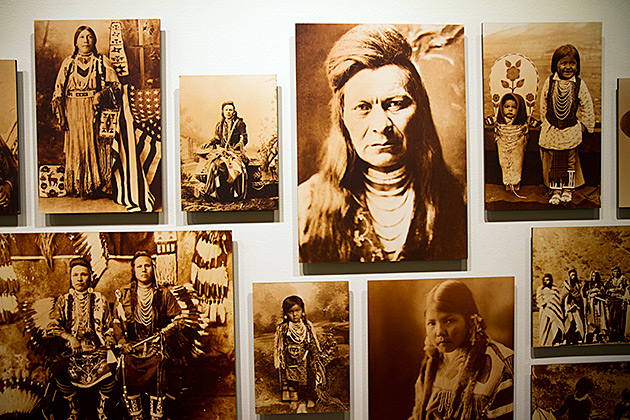 Nez Perce is French for "Pierced Nose": a name mistakenly bestowed upon them by French fur traders. Nose-piercing has never been a part of Nez Perce culture, but for some reason the name stuck. The tribe refers to itself as the Niimíipu, which means "The People".
Like most Native Americans, the Nez Perce have a rich history which turned tragic with the arrival of Europeans. They were among the final American tribes "discovered" by the whites, and established a friendly, collaborative relationship with Lewis & Clark's party. The arriving settlers didn't seem interested in their territory, and the Nez Perce were able to live in peace alongside their new neighbors.
Far from being afraid, the Nez Perce were fascinated by these white people with their powerful "magic", and sent a delegation to St. Louis requesting missionaries to come west and teach them from the "Book of Heaven". Before visiting the Nez Perce Museum, I had never considered that Native Americans might have requested conversion, but I suppose it makes sense.
Of course, it didn't take long for the cozy relationship to fall apart. After the discovery of gold in Idaho, the Nez Perce were pushed off their land onto ever smaller reservations. Disease, particularly smallpox, devastated the population, and things came to a head during the 1877 Nez Perce War. The Nez Perce won some initial skirmishes, but were eventually overwhelmed by the US military just 40 miles south of Canada, where they had hoped to find refuge. The war ended with Chief Joseph's legendary words of surrender: "Hear me, my chiefs! I am tired. My heart is sick and sad. From where the sun now stands I will fight no more forever."
The museum dedicated to the tribe is exceedingly well-done, filled with artifacts and displays which bring the customs and practices of the Nez Perce to life. There's a short video presentation which is both interesting and informative. And near the museum are buildings dating from the late 1800s, including a Presbyterian Church and a general store where whites would trade with the Nez Perce for food and clothing.
Nez Perce National Historic Park – Website