A Whirlwind Tour of Yellowstone Park
We fully subscribe to the concept of "slow traveling". After all, that's what the For 91 Days project is all about — dedicating sufficient time to each new destination for comprehensive exploration and total familiarity. So when we arrived at the entrance gate to Yellowstone National Park, it was with conflicting emotions. Excitement, surely, but also frustration. Here we were at one of the wonders of America, and we had a ridiculously tight schedule. Four hours. We had given ourselves just four hours to see one of the most amazing places in the world.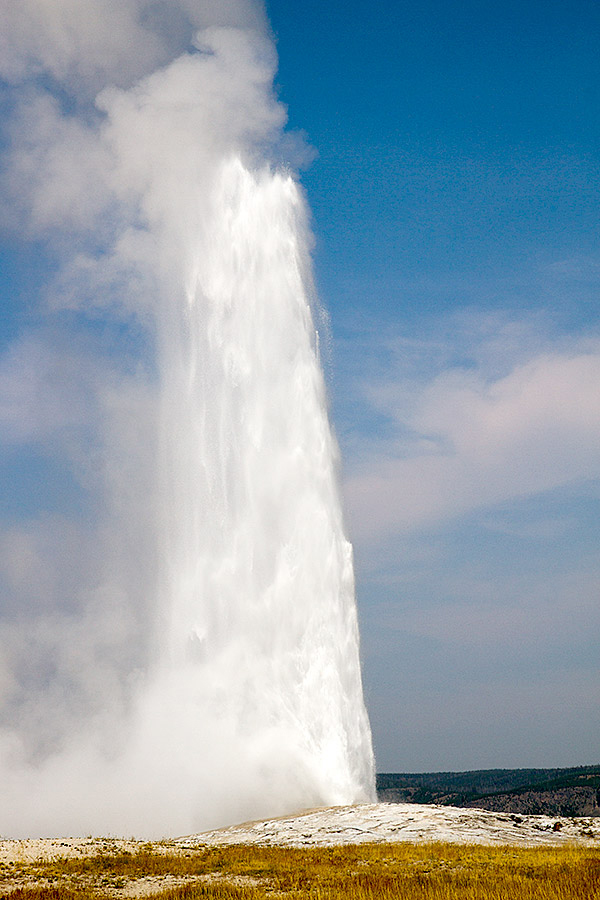 Though we didn't get to explore Yellowstone to our liking, we made the most out of our time. Within minutes of driving into the park, we took a curve and almost smacked into two bison who were moseying down the road without a care. What an introduction! Throughout the day, we were continuously floored by the park's wild beauty — and by its popularity. Although this was a Tuesday morning at the end of summer, the roads were jam-packed with tourists.
After driving along Yellowstone Lake, we found ourselves at the geyser basin of West Thumb: a small piece of land peppered with bubbling, steaming pools of varying size and color. We parked the car and took a stroll through the area, Jürgen with his finger on the camera shutter, and me with a frustrated eye on the time.
The highlight of our speed-tour through Yellowstone was Old Faithful. A piece of American lore, I doubt any kid grows up in this country without aching to see the geyser spout, and I finally had the chance. The explosion was more impressive than I had expected — having anticipated the moment for so long, I was prepared for disappointment, but I suppose it's called Old Faithful because it doesn't disappoint. Ever.
The final stop of our drive was at the Midway Geyser Basin to see the Grand Prismatic Lake. We had a hard time finding a place to park — Yellowstone, the main strip at least, is really not the place to escape into solitude. We shouldered through the crowds along the path, and arrived at the lake harried and frustrated. From far off, we had seen the steam rising off its surface, reflecting the pool's multiple colors, and the effect was stunning from up close. The intense blues, reds and greens are actually pigmented bacteria which live in the lake.
By the time we finished at the Grand Prismatic Lake, we had completely overstepped our self-imposed four-hour limit, meaning we'd arrive in Idaho much later than expected. But it was worth it. Yellowstone might have been worth postponing Idaho by a couple days let alone a couple hours. It's a real shame that we didn't get to stay longer, but I'm fairly confident that we'll be back someday.
–Places To Stay in Yellowstone Park