Must Have When Hiking: GPS Handheld Device
For the last few miles on the way to the Boulder Lake Trailhead, we were following two buses. School buses. School buses full of peppy children excited for their long-awaited day out. "I can't believe this", I hissed at Jürgen. And, of course, they were going on the exact same hike as us. We parked, put on our boots, and then waded into the mess of screaming, happy kids. Off on our big day of pristine nature and peaceful solitude.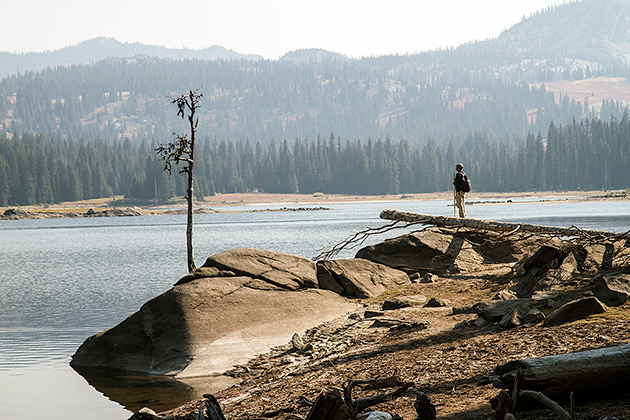 But despite the inauspicious start, we managed to have a nice time. Quick and inexhaustible little monkeys when alone or in small groups, children slow down considerably when congregated into large herds. We passed them immediately and didn't slacken our pace until their piercing voices had completely faded into the distance.
So we arrived at Boulder Lake in almost no time at all. It was a moderately difficult hike, through the woods, following a stream uphill, but the view of the dammed-up lake was worth the effort. Set high in a range of granite mountains, Boulder Lake was large and blessfully quiet. We paused for awhile on the ramparts and scouted for wildlife; and only continued on our way when we heard the wild pack of kids nearing behind us.
The path continued east to the unsigned trail which would take us to Louie Lake. Before setting out, it's worth stopping at the McCall ranger station to get a detailed explanation of the route — we would never have spotted the trail if we hadn't known exactly what to look for, and where to look for it.
I figured that, after climbing up to Boulder Lake, we were as high as we'd get for the day, but the trail to Louie Lake continued even further uphill. Luckily, the nature was so entrancing that we hardly noticed. By now, the children were a distant memory and the only signs of life were chirping birds and the occasional, curious chipmunk. The views from the highest point of the hike were incredible — the Long Valley of McCall to the west, and nothing but autumn-colored mountains to the east.
We descended until reaching Louie Lake, which was just as big and beautiful as Boulder. From here, it was another mile back to our car. It was a loop of seven miles, which took almost five hours to complete, owing for lunch and photo breaks. Strenuous, but not overly so, it made for an excellent day hike.
Location of the Boulder Lake Trailhead | Beginning of Louie Lake Trail