The Snowdon Wildlife Sanctuary
Read Up On North American Wildlife
Wild animals who have been injured or orphaned could never be called "lucky", but those in the McCall area at the time of their accident might at least consider themselves fortunate. For the past 23 years, the Snowdon Wildlife Sanctuary has been dedicated to the care and rehabilitation of Idaho's wild animals, large and small.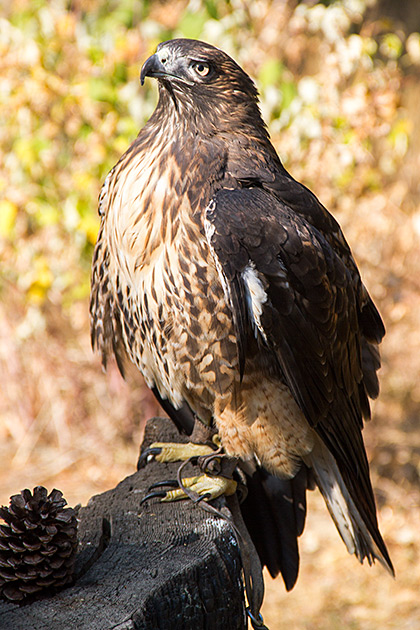 Since their primary goal is rehabilitation, Snowdon is normally off-limits to visitors. The less contact these animals have with humans, the better, and the staff try and keep interaction to an absolute minimum. For the curious public, there are occasional open houses, and "The Dome": an educational center at the sanctuary's entrance, with pelts and information about animals from bears to wolverines.
We were invited to take a rare peek behind the gates, and meet some of the animals currently under care. There was Luta, a beautiful red-tailed hawk who's been in captivity her whole life. She doesn't know she's a hawk and wouldn't survive long in the wild, so is one of the refuge's permanent guests. The same goes for Ollie, a magnificent Great Horned Owl whose right eye was put out after a run-in with a truck.
Snowdown had recently been in the press thanks to Boo-Boo, a bear cub orphaned during the wildfires that ravaged Idaho in 2012. All his paws were burnt, but he was expected to make a full recovery. In fact, during our visit, he was already up and about, and we couldn't even find him in his large enclosure at Snowdon… "Probably up a tree" explained Carolyn, who was acting as our guide. We did spot two other orphaned bears, as they were running away: sisters, who were slated to be released before hibernation season.
Snowdown is a non-profit corporation supported entirely by private donations and grants. Their facilities are small, but they manage to re-release almost every animal brought into their care. It's an enterprise worth supporting — visit their website to help contribute and, if you can make it to one of their infrequent open houses, make sure to do so!
Snowdon Wildlife Sanctuary – Website