On the drive back from historic Warren, we decided to check out the Burgdorf Hot Springs. This had been an area sacred to the Nez Perce tribe, but was taken over during the gold mining days by an enterprising fellow named Fred Burgdorf. He saw the financial potential in the natural hot springs, and turned Burgdorf into one of Idaho's first resort towns.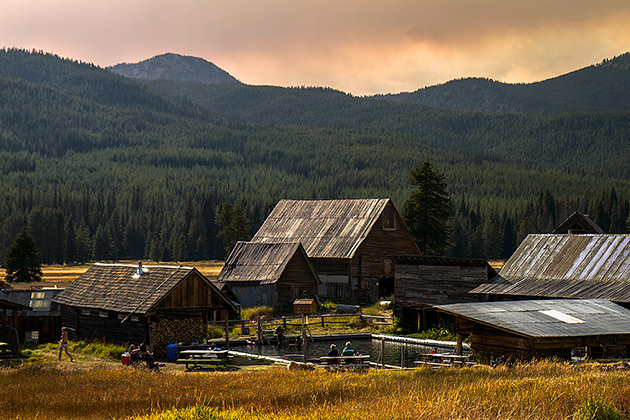 Burgdorf has been owned privately since opening in 1870. It was the first commercial hot spring we visited in Idaho; you can bathe for as long as you want, for $6 per person. Besides the large main pool, which maintains a comfortable heat of 100°F, there are two smaller pools which are much hotter, at 112°F. The guy working the desk warned me to bathe in these pools for no more than two minutes at a time. I had a hard time staying in even that long.
Burgdorf is famed locally for the lithium in its water. We've heard that some visitors will even drink from the pool for the therapeutic effects of the lithium… which, considering the number of people who bathe here, probably isn't the greatest idea. Lithium is known for its ability to smooth the edges and after my dip in the pool, I definitely felt relaxed.
Burgdorf has fifteen cabins which you can rent for $35 per adult ($10 per child). With its beautiful location in the woods just 30 minutes north of McCall, it would make for a great, and very relaxing, weekend.
Burgdorf Hot Springs – Website