Moose Sighting in the Payette River
On a whim, we decided to return to McCall from Warren by looping around the east side of the Payette Lake. We'd done the western road a few times, and wanted to see something new. And we certainly did: there, standing knee-deep in the North Fork of the Payette River, were two moose.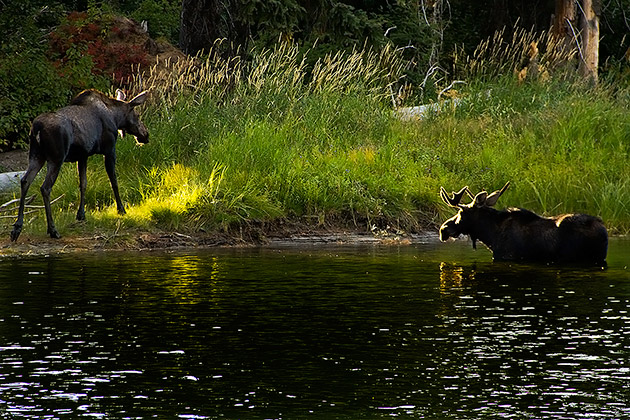 Two young moose, a bull and a cow, were chilling on the far side of the river, probably 50 feet away. They raised their heads, registering our presence, and then went right back to eating and drinking, utterly unconcerned. We stayed for fifteen minutes watching them.
Of course, the first thing I did when I got home was get on the internet and read up on moose. The ones we spotted must have been young, because they weren't as large as fully-grown adults. Bulls can reach seven feet in height, and weigh up to 1500 pounds. Next to bison, moose are the largest land mammal in North America. The ones we had seen weren't that big, and the bull still had velvet on his antlers.
I also learned it was good that a river had been separating us. Moose can get surprisingly aggressive, particularly when their young are involved. In fact, more people are attacked by moose than by wolves and bears combined! They're herbivores, with no interest in munching on human bones, so won't pursue if you run away. Against predators, though, they fight ferociously; battles pitting wolves against moose can last days.
Perhaps the most surprising thing I learned about moose is that they're not considered endangered at all. I had always just assumed that they were among the rare creatures we're duty-bound to protect, but they're so common that they can even be hunted. The non-resident license to kill a moose currently runs at $2100. Funny, since that's about the same price I would pay to save one.
Location of our Moose Sighting