Sun Valley – America's First Ski Resort
Older than Vail, Jackson Hole, Aspen or Lake Tahoe, Sun Valley was America's very first winter resort, hosting celebrities, families and skiing fanatics since 1936. We spent two autumn nights there, basking in its classic elegance.
In 1935, Averell Harriman, the owner of the Union Pacific Railroad, had a brilliant idea to increase ridership on his western trains. A ski resort! Harriman enlisted the Austrian Count Felix Schaffgotsch to scout for locations which were close by Union Pacific stations. Schaffgotsch considered sites in Colorado and Wyoming but it wasn't until he arrived in a small, end-of-the-line community called Ketchum, Idaho, that he fell in love.
It's not hard to see what caught the Count's eye. The name "Sun Valley" was invented as a marketing ploy, but this part of central Idaho does see an unfair amount of sun. Aspen trees adorn the rolling mountains, which provide both capitvating scenery and excellent skiing. Harriman wasted no time in leaping on the opportunity. Construction projects moved quicker back in the 30s, and less than a year after being "discovered", Sun Valley was ready for business.
Harriman shrewdly marketed his resort to celebrities, even going so far as to producing a film at the resort; Sun Valley Serenade is a fun light-weight musical that stars John Payne, Sonja Henie and a young Milton Berle, and plays repeatedly on channel 67 in all the lodge's rooms. The most famous celebrities of the day spent their vacations here; Ernest Hemingway, Gary Cooper, Marilyn Monroe, Lucille Ball, and the Kennedys were habitual guests. The resort's reputation as a VIP-friendly escape hasn't diminished throughout the years; today it's common to see Arnold Schwarzenegger and Clint Eastwood on the slopes.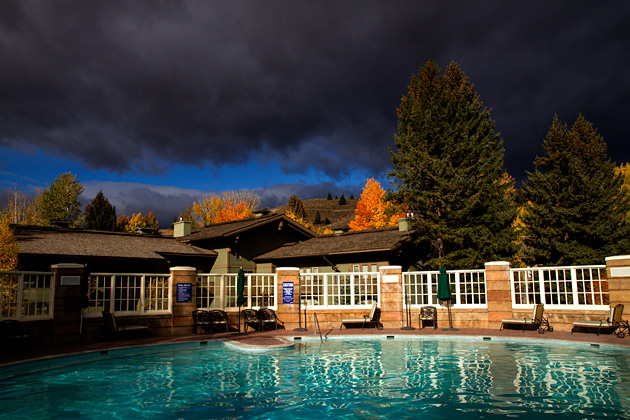 Sun Valley might be far away from major population centers, but the isolation works to its advantage, since there are never lift lines, nor crushing crowds. Harriman built his resort to last, with a timeless grace to the rooms and facilities. We spent some time in the outdoor pool, unchanged since 1936, and visited the wonderfully retro bowling alley. For a couple morning hours, I worked in one of the lobby's plush lounge chairs next to the fireplace, with classical music playing in the background, and a member of the staff coming by occasionally to refill my coffee. It's not hard to understand why 75% of the resort's guests are return visitors.
The Sun Valley Lodge is impressive enough by itself, but the facilities and recreation opportunities in the village which surround it are even better. One of the country's few year-round outdoor ice skating rinks. Heated sidewalks. An amphitheater built from the same stone as Rome's Colosseum. 45 holes of golf. Some of the country's best Nordic skiing. An Olympic-sized pool. A shooting range. Wintertime sleigh rides to the Trail Creek Lodge. Miles and miles of biking and hiking trails. Tennis courts. An opera house, for Christ's sake.
But skiing is what most visitors come for. There are two mountains at the resort: Dollar and Bald Mountain. Dollar is known as one of the best learning hills in the world, with a number of easy slopes perfect for beginners. It's also famous for having the world's very first chairlift. Baldy is much bigger, with 66 runs and 12 lifts. In contrast to Dollar, the slopes here are no cakewalk; the steep, blue runs of Baldy would be black at most other resorts.
We were at Sun Valley a month before ski season kicks off, which was a little sad. The resort and its surrounding village were lovely during the autumn, with the Aspen trees changing colors on the hills, but winter must be something else. So we've vowed to return. We often make such promises to ourselves, but this is one I plan on keeping.
Book Your Stay At The Sun Valley Lodge here
Official Website: Sun Valley Resort