The Folklife Fair & Sheepdog Trials
The day before the parade of sheep occupies downtown Ketchum, the nearby town of Hailey enjoys the focus of the Trailing of the Sheep Festival. The Folklife Fair brings the traditional music of faraway lands into the Sun Valley, along with activities and food. And in a nearby field, the Championship Sheepdog Trials are held.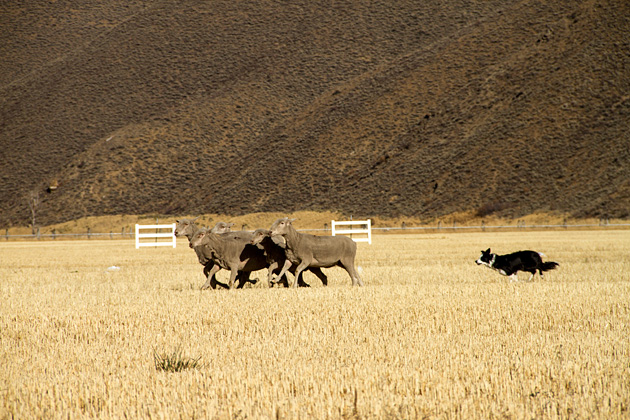 I had never before considered that sheepdogs might have their own competition, but why not? These animals are as highly trained in their profession as Michael Phelps is in swimming (though they don't look as good in a Speedo). A competition to crown the very best sheepdog makes sense. We grabbed our binoculars and joined the surprisingly large crowd who had shown up on the sidelines.
At the end of a huge field, a group of five wild sheep is released. The competing dog is dispatched to retrieve them, in a very specific way. First he has to circle and approach the sheep slowly, "introducing" himself. Then, he has to wrangle the sheep through a couple fences and bring them to the other end of the field. His next task is to separate two sheep from the other three, and then get the whole flock into a cage. The dogs are amazing, especially considering that their trainers have to remain in one spot on the field, issuing commands only with a whistle.
The nearby Folklife Fair was just as entertaining. After gorging ourselves on lamb-burgers and lamb-gyros, we grabbed a seat for a series of performances from around the world. Polish Highlanders were followed by amazing Basque Dancers. There was a bagpipe-toting group of Scottish Highlanders and a Peruvian band rocking out to traditional songs. Stands in the fair were selling clothes made of wool, shearing sheep, and providing information about the shepherding life.
We also attended a "foodie fest" in Ketchum called For the Love of Lamb. Walking from restaurant to restaurant, we joined long lines and sampled dishes of lamb that ranged from the exotic to the familiar. The amount of lamb I consumed during our stay in Sun Valley was probably more than I'd eaten in my entire life combined. And it was all delicious. Lamb, veal, duckling… when you consider it, it's startling how tasteful and tender baby meat is.