The Old Man and the Potato – Hemingway in Idaho
Ernest Hemingway might have gained fame for his escapades in Spain, Cuba, Italy and Africa, but the final years of his life were spent in Idaho. He first came to the Sun Valley region in 1939, and was a frequent summer visitor for years before buying a house and settling down permanently in 1959. But he didn't stay for long; on July 2, 1961, he shot himself in the head in his Ketchum home.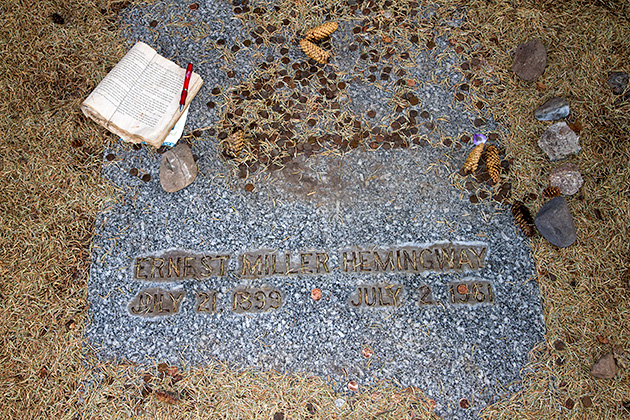 Like every American fascinated by foreign lands, I've read many of Hemingway's novels, and considered myself fairly familiar with his life. But I had never known about his relationship with Idaho, nor the fact that he died here, until our visit to Sun Valley. When you think "Hemingway", Idaho is certainly not the first place that springs to mind. But perhaps it should be. Hemingway loved it here; the nature, the skiing and the hunting all fit nicely into his concept of paradise.
Hemingway first arrived in Idaho on the invitation of Averell Harriman, who wanted to bring a bit of celebrity to his new ski resort. As a favored guest, Hemingway spent summers hunting and fishing, and throwing raucous parties in the Trail Creek Lodge with friends like Gary Cooper. He returned year after year, and during the troubled final years of his life, chose Ketchum as his home.
For a town of its size, being the resting place of America's most famous novelist should be a huge deal, but classy Ketchum never overplays its hand. There's a small memorial bust of Hemingway overlooking his beloved Trail Creek, and a couple pictures around town, but you could conceivably spend a week there without knowing that you're in the same place that Hemingway lived and died. Even his grave in the town cemetery is an understated tribute. Just a flat plaque on the ground. When we visited, there was an old, weather-beaten copy of For Whom the Bell Tolls and a couple bottles of beer left on top of the grave in his memory.
When Sun Valley's publicist Gene Van Guilder died in a hunting accident, Hemingway composed a eulogy about his friend's appreciation for nature. But the verse was so lovely, and applied so well to Hemingway himself, that it's been inscribed underneath his memorial bust at Trail Creek. It's not hard to see what attracted the great man to Idaho, but let's allow him to explain…
Best of all he loved the fall
The leaves yellow on the cottonwoods
Leaves floating on the trout streams
And above the hills
The high blue windless skies
Now he will be a part of them forever