The Warhawk Air Museum in Nampa
Dedicated to America's military past, the mammoth Warhawk Air Museum in Nampa is a privately-funded collection of wartime memorabilia, stories and airplanes. It's the kind of place you could spend days at, and still not see everything.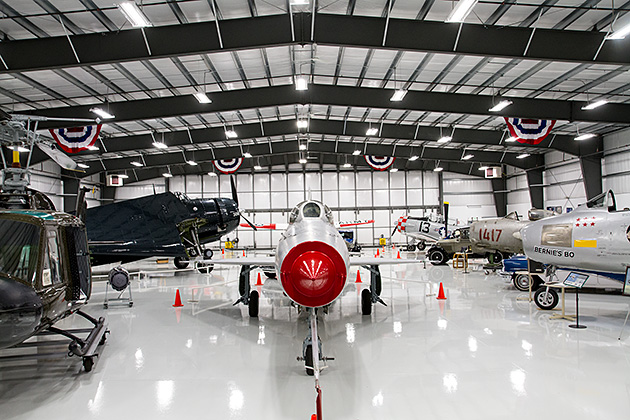 A few people had recommended a visit to the Warhawk Air Museum, but we just couldn't get excited about it. I've never been too interested in military history and, as a German, Jürgen is naturally disinclined to the glorification of America's fighting prowess. But the museum won us over completely. A collection of antiquated fighter planes joins memorabilia, uniforms, posters, photos, postcards, toys and even a recreation of the Berlin Wall within two hangars adjacent to the Nampa Municipal Airport. Ambitious, exhausting and utterly fascinating.
We were given a tour of the grounds by Sue Paul who, along with her husband, founded the museum in 1997. It's a non-profit, and all of its treasures have been donated privately, from the pilot jackets to the planes themselves. The goal is the simple preservation of military history, with exhibits organized by conflict: the two World Wars predominate, but there's a growing section dedicated to the Cold War.
The airplanes are the most impressive attractions in the museum, and not all of them are American. There's a beautifully restored German Fokker DR-1 from WWI, gleaming blue with an Iron Cross stamped boldly on the tail, and the body of a Mig-17: the famous Russian fighter which caused our boys so much trouble during the Vietnam War.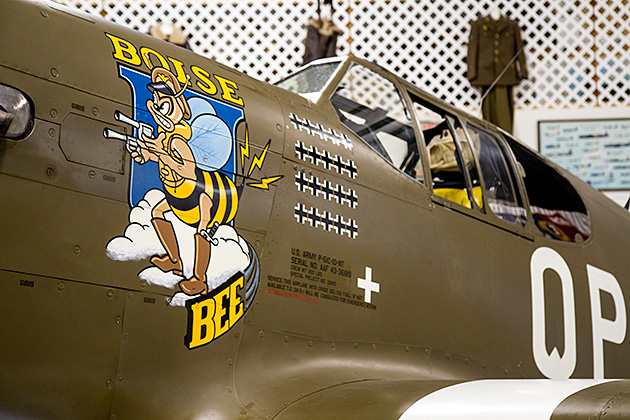 My favorite was the Boise Bee, flown by Idaho's own Duane Beeson. During WWII, Beeson was one of America's deadliest aces, but was taken prisoner after being shot down over Germany. Luckily, the Germans respected enemy pilots, and Beeson was treated well, returning home a highly-decorated hero after the war's conclusion. He continued working for the Air Force in experimental flight labs, before suddenly developing a rapidly-growing brain tumor which killed him at the age of 26.
These kinds of stories abound in the Warhawk Air Museum. Every display includes at least one binder replete with photographs and stories from the war. So, you're not just looking at the clothes of a particular soldier, but seeing his face, reading the love letters he sent to his sweetheart, learning about his family, his career, where he fought and how he died. Or whether he's still alive.
Indeed, many soldiers honored here are still kicking, and they've found a friend in Nampa. The museum has recently kicked off the Veteran's History Project, which endeavors to interview as many veterans as possible. Already, over a hundred former soldiers have sat down in front of the camera. Such a cool idea, giving these fighting men and women a place to record their experiences, before it's too late. And you can tell they appreciate the chance — just watch the beginning of the interview with the personable Sgt. Frederick Hill, who's so thrilled to share his story that he can hardly contain himself.
Nampa's Warhawk Air Museum truly surprised us. The sheer amount of items on display and the amazing stories make it an absolute must-see for anyone, even those of us not normally interested in military history.
Warhawk Air Museum – Website